Embassy strives to locate hostages in Iraq
By Qin Jize and Li Dapeng (China Daily)
Updated: 2005-01-23 22:59
The Chinese Embassy in Baghdad is still doing all it can to try to locate eight Chinese hostages who were seen being freed in televised video in Iraq.
The Dubai-based Arabic news channel Al-Arabiya broadcast a videotape on Saturday that showed the eight hostages captured six days ago and held by Iraqi militants being released.
However, the men's location or whether they were headed to the Chinese embassy or another country was not yet known.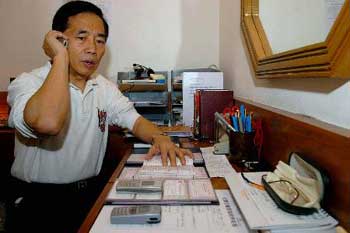 Chinese Ambassador to Iraq Yang Honglin calls to clarify the exact location of released Chinese hostages after confirming that they have been released by Iraqi insurgents on Saturday in Baghdad, capital of Iraq, Jan. 22, 2005. [Xinhua]
The videotape opened with four men standing and four kneeling, each holding a passport. According to CNN, a masked man appeared and shook hands with each of the hostages. A speaker said the hostages were unharmed and the Chinese Government did not pay a ransom for the release.
Other news reports said the eight had been turned over to the Iraq Muslim Presbytery but the reports could not be independently confirmed.
The Chinese, aged between 18 and 40, and identified as natives of Pingtan County in East China's Fujian Province, had sought job opportunities in the war-torn nation. They were seized on their way from Iraq to Jordan.
Chinese Foreign Ministry Spokesman Kong Quan reiterated the Chinese Government's warning for their citizens to avoid travel to Iraq late on Friday night as the captors aired a new demand,asking China to ban nationals from entering the nation.
The Chinese Government, departments concerned, Chinese Embassy in Iraq and embassies in the surrounding countries of Iraq are making unremitting efforts to make headway by locating the still-missing men, officials said.
"This is a reflection of the government's essential connotation of its policy, which is people oriented," Gong Shaopeng of the China Foreign Affairs University said yesterday.
He said the Chinese Government serves the people while its people have a responsibility to help the government reach this goal by considering its interests.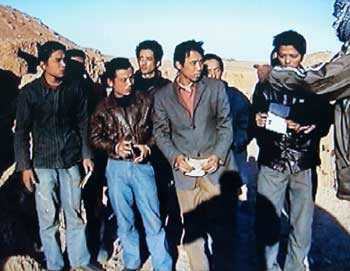 A video frame grab taken from a video released January 22, 2005 shows eight Chinese hostages being held in Iraq. Chinese embassy in Baghdad confirmed on Saturday the eight Chinese hostages have been freed. Insurgents holding eight Chinese labourers hostage in Iraq said on Saturday they were releasing the men, locals who saw the videotape circulated by the kidnappers said. The tape which surfaced in the western city of Ramadi said the hostages were being freed after China said it had advised its citizens not to travel to Iraq, locals said. [Reuters]
"If the eight people could have registered early with the embassy in Baghdad when they entered Iraq, things would've possibly been much better," he said.
He said that not only the government but the Chinese people have shown grave concern about the incident.
He said the fate of the hostages in Iraq has affected the public. "The Chinese people have always cherished friendly feelings and sympathized and supported the Iraqi people and the incident has made people pay more attention to the region," he said.
He said the Chinese Government always focuses on maintaining the fundamental interests of the Iraqi people in handling the Iraqi issue and noted the Chinese people are looking forward to seeing a peaceful settlement of Iraqi issue.
"Considering the safety of the seized people, I believe the majority of the Chinese must share the same feeling as mine," said Yin Yu in East China's Shanghai.
"I earnestly want to see any progress on this issue and I hope they are secure and can be contacted by the embassy," she said.
Yin said she would like to see the hostages to reunite with their families as early as possible.
The government's advise for Chinese not to go to Iraq has prodded local people in Pingtan County to think carefully about working abroad.
"We now really realized Iraq is really troublesome," said villager Pan Linshou of Hushan Village, who lives nearby Lin Bin's family.
Pan said if his family members would like to seek work abroad in the future, they will be very careful when making choices.
Families happy but wary about release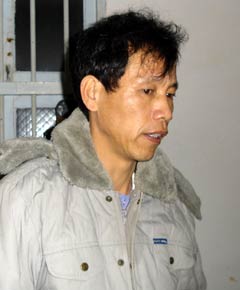 Wei Shoulong, father of Wei Wu, one of the hostages, looks relieved after hearing the release of his son. [newsphoto]

Family members of the eight Chinese hostages say they feel greatly relieved about news that their loved ones have apparently been freed by Iraqi militants

However, a little worry lingers on their faces since they have not yet been contacted either by their family members or Chinese embassy official in Iraq.

Families on the island of Pingtan County in East China's Fujian Province received the news late Saturday from television and Internet news reports.

Zhou Sunlin's mother said her family felt very happy when they watched the 5 pm news on Saturday

"We finally slept better Saturday night," she told reporters yesterday.

However, she wants a call to confirm Zhou's release.

Her son last called from Iraq on January 8 to tell her he would be back home soon. However, the surprising events soon changed the family's joy into gripping fear.

Zhou had told the family that it was hard to find a suitable job in the war-torn nation in his previous calls. Having few skills,he had to take on work as a construction worker there.

Wei Shoulong, father of Wei Wu, -- a hostage from Auwang Village, said his family was also relieved at the good news.

"We hope he can come back soon and our family can enjoy a good Spring Festival," said Wei.

"My biggest wish now is to hear the voice of my son on the phone," said Wei, showing both some happiness and a little anxiety in his voice.

Wei Wu's sister was first in the family to learn the news from the Internet. Since Wei Wu was seized last Tuesday, the young girl has been in town often at an Internet cafe to check the latest information.

Wei Shoulong appreciates the country and the government for efforts made to rescue his son and the other hostages.

Due to the family's lack of wealth, Wei Wu has been a casual labourer since he finished junior middle school, his father recalled. The family's other two children are still studying, and Wei Wu's elder brother in university and his younger sister in a technical secondary school. The old couple can only make a monthly income of 600 yuan (US$73).

To support Wei Wu's trip, the family had to borrow from loan sharks. "My son hasn't mailed even a cent back home after he went to Iraq," said Wei.

When talking about future plans for Wei Wu, the father said: "It has been such a good luck that my son can be safely released. We haven't considered much yet about his future."

Li Guiping, one of the seven hostages held in Iraq in last April, said that he is also very glad that his countrymen are to be freed. After Li came back to Audong Town, he has worked as a motorcycle rider carrying passengers with a monthly income of no more than 800 yuan (US$97).

"Pingtan is really small and poor," Li said. "We have to go out and work hard to make our fortune."

The Pingtan government will assist the family and area officials to prepare for meeting the eight citizens when they arrive back, according to Cheng Suming, director of the publicity department of the county government.

Cheng also said the government would like to try some means to help local farmers increase their incomes and improve their living standard.




Today's Top News
Top China News

Embassy strives to locate hostages in Iraq




Shanghai plans 1 billion yuan space city




8 Vietnamese robbers shot dead in China sea




Study to start on free trade in East Asia




Women master men... and their wallets




China-Japan frictions moving to military field