8 Vietnamese robbers shot dead in China sea
(China Daily)
Updated: 2005-01-23 21:48
China hopes to build joint effort with Viet Nam to fight maritime crime and ensure a stable and harmonious environment for the two countries' fishing fleets, the Foreign Ministry said yesterday.
The ministry said the Chinese maritime police shot dead eight armed robbers and captured eight others who robbed Chinese fishing boats operating on January 8 in Chinese waters in the Beibu Gulf. The robbers had confessed they were Vietnamese, and that they had committed four previous armed robberies of Chinese fishing boats in the same area.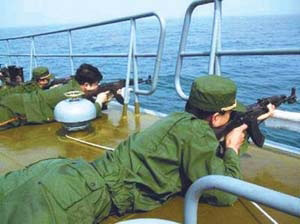 Chinese maritime police in training session. [Xinhua]
According to Chinese border police, that morning, six Chinese fishing boats from South China's Hainan Province were fishing when three unidentified vessels with armed men aboard arrived and robbed the fishermen aboard of 310 fishing nets and fish products worth more than 3 million yuan (US$361,445). The suspected robbers fired at the Chinese boats when they tried to chase after them.
Chinese maritime police rushed to the spot after receiving an alarm from the Chinese fishermen. The three armed vessels first opened fire at the police boats and hurled antitank grenades and dynamite at them. Police said they stated their identity and fired warning shots skyward.
After the incident, the Chinese side informed the Vietnamese authorities of the incident in detail in accordance with a Sino-Vietnamese treaty and organized relative visits with the Vietnamese consulates.
Since the agreements on demarcation and fishery co-operation in the Beibu Gulf between China and Viet Nam took effect last June, the overall situation there is stable.
However, many Chinese fishing boats have been robbed in the joint fishing area, posing a serious threat to the lives and property of Chinese fishermen.
A local newspaper reported that Chinese fishermen are often attacked by pirates since the Chinese maritime police patrols are far away from the joint fishing area.
But when the January 8 incident took place, Chinese police were just 50 sea miles (277 kilometres) away and rushed to rescue the fishermen, the Guangzhou-based Nanfang Metropolis News reported yesterday.
Another Chinese fishing boat was looted by a group of unidentified pirates in the Beibu Gulf on December 15 last year.
The boat, from the Yangpu Development Zone of South China's Hainan Province, was carrying normal fishing works at 19.32 degrees north latitude and 107.28 degrees east longitude, when a wooden boat without nationality signs appeared.
Three pirates armed with machine guns jumped onto the Chinese boat and took away satellite navigation equipment and 400 fishing nets on board.
The loot was valued at some 80,000 yuan (US$9,680) and no Chinese fishermen were hurt in the 30-minute ransack, according to local government sources.
The Chinese boat has returned safely in the morning on December 16.
Today's Top News
Top China News

Embassy: Eight Chinese hostages freed in Iraq




Shanghai plans 1 billion yuan space city




8 Vietnamese robbers shot dead in China sea




Study to start on free trade in East Asia




Women master men... and their wallets




China-Japan frictions moving to military field