Mayor sets out Olympic pledge for 2005
By Liu Li (China Daily)
Updated: 2005-01-23 21:48
Beijing Mayor Wang Qishan yesterday vowed to make this year a key action year in preparation for the 2008 Olympic Games.
"We will spare no efforts to ensure successful completion of Olympic venues and auxiliary facilities," he said, giving a report on the work of the municipal government delivered at the third session of the 12th Beijing Municipal People's Congress, which opened yesterday.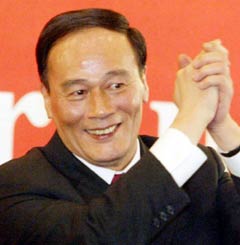 Wang Qishan. [file photo]

"New venues, the National Conference Centre, the Olympic Village and the journalists' village will start construction this year," the mayor said.

But he did not give the name list of the venues that will break ground in 2005.

"We will speed up road building and building facilities surrounding the venues and start work on scenic projects in the central area of the Olympic Park," Wang said.

He also vowed to strengthen supervision and auditing work to make sure all preparations were above board.

Wang said construction of the four urban railway lines will be sped up this year.

Building of five sewage treatment plants will also be accelerated.

Air pollution will get its share of treatment, with 2,000 boilers that formerly burned coal converted to using clean energy this year.

Up to 3,800 buses that used to run on diesel oil have stopped running. Up to 20,000 taxis that fail to meet the European III emissions standard will be replaced by new and environmentally friendly cars.

The mayor made an appeal to construction managers to improve their operations to meet the requirements of the Games.

"It is more difficult now to manage the whole city with the acceleration of urbanization," Wang said.

Issues related to farmers, agriculture and rural areas were also emphasized by the mayor in his work report.

"More government investment will be injected into these rural areas," he said.

Ding Xiangyang, director of the Beijing Municipal Commission for Development and Reform, said government investment in the city's rural areas would reach 7.7 billion yuan (US$930 million) this year, 50 per cent of total government spending.

Figures for last year showed that spending by the government in rural areas came to 40 per cent in total, 20 per cent in 2003.

Wang's report said the municipal government's investment in the public sector reached 13 billion yuan (US$1.6 billion) last year, 28 per cent higher than in 2003.

The public sector includes public health,schools, scientific research, culture and historic relic protection.

Public funds of 480 million yuan (US$58 million) were injected into building rural schools in Beijing.

As well as listing the achievements made by the municipal government in the past year, Wang pointed out various problems.

"Beijing has restricted water and land resources. Use of resources is not efficient enough," he said.

The mayor also said the income gap between different groups in the city was vast.

He said the local government needs to improve work efficiency and stamp out corruption, which was still a problem.

Xi Wenqi, a congress deputy, urged the municipal government to strictly abide by law in administration, said: "The goals set in the work report can be achieved only when the government administration is indeed based on law."




Today's Top News
Top China News

FM: 8 freed hostages now in embassy, coming home soon




Mayor sets out Olympic pledge for 2005




1.2 mln applicants crowd into exam rooms




Giants India, China to discuss strategic issues




Shanghai plans 1 billion yuan space city




Women master men... and their wallets