Palestinian group ready to end violence
(Agencies)
Updated: 2005-01-22 23:03
A local group of Palestinian militants announced Saturday it is ready to stop violence, a sign that Palestinian leader Mahmoud Abbas appears to be making some progress in persuading armed factions to halt attacks on Israel.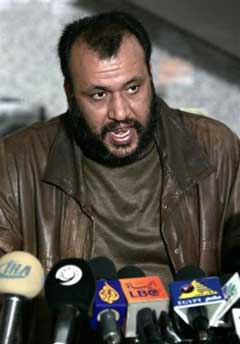 A spokesman for the local Al Aqsa Martyrs Brigades militant group in Gaza, who would only identify himself as Abu Ibrahim, talks to the media in Gaza city, Saturday Jan. 22, 2005. The man who represents a local group of Al Aqsa, not the entire faction, said Saturday it is ready for a cease-fire providing Israel halts military operations and begins releasing Palestinian prisoners. [AP]

The announcement by gunmen from the Al Aqsa Martyrs' Brigades, a group with ties to Abbas' ruling Fatah movement, came a day after some 3,000 Palestinian policemen were deployed in the northern Gaza Strip to halt rocket fire on Israeli communities.

A top Israeli security official on Saturday praised the Palestinian effort to rein in militants. Compared to lackluster performance in the past, "now it seems they (Palestinian security forces) are taking positive action," said Brig. Gen. Giora Eiland, head of Israel's National Security Council.

Eiland told Israel Radio that the situation remains fragile and that in the long run Abbas will have to dismantle armed groups and raid weapons workshops

Abbas has said he wants to avoid force and is instead trying to reach agreement with the militants.

In the past few days, he has been meeting with militant leaders in Gaza, and participants have reported progress toward a truce. Egypt is expected to host Abbas and Palestinian militant leaders in coming days in Cairo to finalize an agreement, a top Palestinian official said on condition of anonymity.

The meeting is to be convened after the Muslim holiday of Eid al-Adha, which ends Sunday.

The armed groups — mainly Hamas, Al Aqsa and Islamic Jihad — have said they want Israel to promise that it is halting military operations, including arrest raids and targeted killings of wanted Palestinians. Israel has refused to give such a guarantee in the past, and it remains unclear if it will do so now.

On Saturday, a local Al Aqsa group said it is willing to halt attacks, provided Israel also observes the truce and begins releasing Palestinian prisoners. The group, which consists of several dozen gunmen, made the announcement at a news conference in the basement of a building in Gaza City.

The Bush administration said Friday it is taking advantage of a lull in violence to send the State Department's ranking Mideast official to the region to assess chances of peacemaking.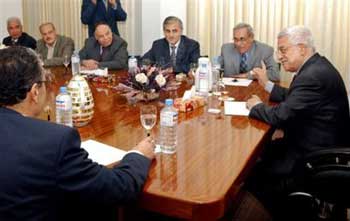 In this photo released by the Palestinian Authority, Palestinian Authority President Mahmoud Abbas, also known as Abu Mazen, right, meets with representatives of Palestinian factions in Gaza City, Saturday, Jan. 22, 2005. Abbas who had said he wants to avoid force, and is instead trying to reach agreement with the militants, had been meeting in the past few days with militant leaders in Gaza, and participants have reported progress toward a truce deal that could halt attacks on Israelis. [AP]

The announcement of next week's trip by Assistant Secretary of State William Burns was coupled with a positive U.S. response to the Palestinian police deployment. "We have always stressed how important it is for the Palestinians to organize themselves to end the violence, and we welcome steps that are being taken in that direction," State Department spokesman Richard Boucher said.

Militants have not fired rockets since Wednesday, and Hamas spokesman Mushir al-Masri said the group was suspending attacks.

In his meetings with the militants, Abbas is also trying to forge agreement on a joint political platform that would give him a stronger mandate in future negotiations with Israel. The document being considered calls for establishing a Palestinian state in the West Bank, Gaza Strip and east Jerusalem, al-Masri said.

Hamas is pledged to Israel's destruction and has carried out many suicide bombings that have killed hundreds of Israelis. But in the past it has indicated a willingness to consider a long-term truce.




Today's Top News
Top World News

Chinese embassies trying to contact 8 hostages freed




Britain backs EU in lifting arms ban




Auditors reveal truth about State assets firms




Terror tip involving Chinese seen as revenge




Power shortage causes blackouts nationwide




Koizumi: China, US equally important to Japan