Embassy: Eight Chinese hostages in Iraq freed
(Agencies/Xinhua)
Updated: 2005-01-22 16:22
The Chinese embassy in Iraq confirmed on Saturday that the eight Chinese hostages held by Iraqi insurgents since Tuesday had been released.
Earlier, the Al-Arabiya television station said, citing a statement by their captors, reported that the hostages have been freed,
"The eight Chinese were freed and handed to the Committee of Muslim Scholars," a leading Sunni religious group in Iraq, an Al-Arabiya correspondent reported from Baghdad.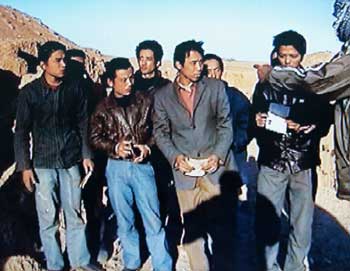 A video frame grab taken from a video released January 22, 2005 shows eight Chinese hostages being held in Iraq. Chinese embassy in Baghdad confirmed on Saturday the eight Chinese hostages have been freed. Insurgents holding eight Chinese labourers hostage in Iraq said on Saturday they were releasing the men, locals who saw the videotape circulated by the kidnappers said. The tape which surfaced in the western city of Ramadi said the hostages were being freed after China said it had advised its citizens not to travel to Iraq, locals said. [Reuters]

China says it has already warned its citizens to stay out of Iraq after kidnappers holding eight Chinese men said they would spare their lives if Beijing issued a travel ban.

"What I want to stress is that the Chinese government has previously issued warnings on many occasions to its citizens, requesting them not to travel to Iraq," foreign ministry spokesman Kong Quan said in a statement issued late Friday.

Kong pointed out that the Chinese were abducted on their way out of Iraq. "The eight Chinese people were kidnapped just as they were leaving Iraq. They should be safely released as soon as possible."

The captors, who call themselves Movement of the Islamic Resistance Nuamaan Brigades, made their demands in a video showing the hostages, the Dubai-based Arab channel said.

The eight Chinese men were shown on Al-Arabiya, standing in front of rocks, looking scared and confused.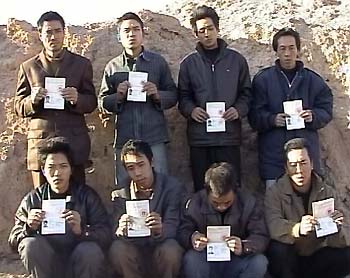 A video grab taken from a hand out amateur video released by an unidentified Iraqi insurgents group shows the eight Chinese hostages who had been kidnapped earlier this month in Iraq, January 21, 2005. [Reuters]

Chinese authorities in the eastern province of Fujian, where the captives came from, on Friday ordered a search to see how many other Chinese nationals were working in Iraq, in hopes of avoiding a repeat of the hostage taking, the Beijing News said Saturday.

Those working in Iraq or the Middle East would be urged to return home immediately and people planning to leave for those places would be persuaded to stay, according to an urgent notice issued Friday by Fujian's Fuzhou city.

Seven Chinese workers abducted in Iraq last April were later safely released.

On Tuesday, the kidnappers in the latest case released footage to Al-Jazeera television of the eight laborers holding Chinese passports and claimed they were helping the US military build facilities in Iraq.

The group demanded Beijing "clarify" its position on Iraq within 48 hours or the hostages would be killed.

The government and employers of the eight men have denied any link to the United States.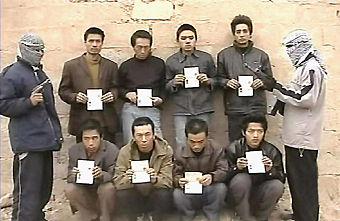 A video grab image shows eight hostages holding Chinese passports standing before a mud brick wall along with two masked gunmen. The kidnappers threathen to kill them within 48 hours unless China clarifies its stance on Iraq. [Reuters]

The men, aged 18 to 40, were on their way home to spend Lunar New Year with their families, Chinese media said.

Their families have been ordered not to speak to reporters for fear their statements would not be in line with the Chinese government's -- which would complicate efforts to free the men, Beijing News said.

Coastal cities in Fujian have long been a major source of illegal Chinese immigrants abroad. Following the war in Iraq, Chinese workers have also surfaced in that war-ravaged country, but even the Chinese government does not know how many are there.

Beijing opposed the US-led invasion of Iraq in 2003 but, like other nations, its companies have chased lucrative reconstruction contracts in the country.




Today's Top News
Top China News

Embassy: Eight Chinese hostages in Iraq freed




Britain backs EU in lifting arms ban




Auditors reveal truth about State assets firms




Terror tip involving Chinese seen as revenge




Power shortage causes blackouts nationwide




Koizumi: China, US equally important to Japan