Nanjing Massacre survivor wins defamation case
(Xinhua)
Updated: 2005-01-22 11:02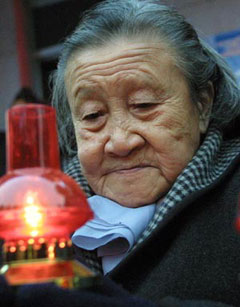 Li Xiuying, survivor of the Nanjing massacre in 1937 in which over 300,000 were killed by Japanese invaders, holds a red candle to commemorate the victims in Nanjing, East China's Jiangsu Province in this file photo. She died on December 4, 2004 before she won the defamation case against a right-wing Japanese writer. [newsphoto]

The Supreme Court of Japan upheld Thursday a prior verdict where Nanjing Massacre survivor, Li Xiuying, successfully sued a right-wing Japanese writer for defamation.

Five judges rejected the appeal of Matsumura Toshio and maintained the previous verdict of the Supreme Court of Tokyo. The verdict declares that Toshio will pay Li 1.5 million yen, said Li's lawyer, Watanabe Harumi, in a telegraph to the museum commemorating victims of the Nanjing Massacre, Friday.

Li passed away before the decision was made, on December 4 in 2004.

"It's a late judgment," said Li's daughter Lu Qi, "my mother did not live long enough to see this day."

"When we get the judgment paper, we nine sisters and brothers will take it to my mother's tomb to comfort her soul at rest," Lu said.

"The lawsuit is not a personal feud, but a battle for justice. The right-wing Japanese should face history and stop denying the war crimes," said Zhu Chengshan, a researcher with the museum commemorating victims of the Nanjing Massacre.

Li made her name known throughout China for her courage and perseverance, as she stood up against the writer who called her a "false" war witness in his book: "The Big Question in the Nanjing Massacre."

The Supreme Court of Tokyo gave the verdict in May 2002 that Toshio should compensate Li 1.5 million yen, but did not support Li's appeal for a public apology. Both parties were not satisfied and appealed. The court upheld the verdict in the second trial in April 2003.

In December 1937, 300,000 Chinese civilians were brutally killed by Japanese invaders after the fall of Nanjing, the then capital of the Kuomintang government.

Li Xiuying was pregnant at the time and suffered 37 stabs from Japanese soldiers. Thanks to timely medical treatment by an American doctor named Robert Wilson, Li survived, but lost her baby.

The crime perpetrated against Li was recorded at the time in a documentary made by American priest John Magee and "The Good Man of Nanking: The Diaries of John Rabe," as well as in the diaries, letters of some other Western witnesses of the massacre.




Today's Top News
Top China News

Captors of Chinese hostages air new demand for release




Britain backs EU in lifting arms ban




Auditors reveal truth about State assets firms




Power shortage causes blackouts nationwide




Koizumi: China, US equally important to Japan




Lower prices push pirate books off shelves