Blast kills 11 at Muslim festival in Xinjiang
By Mu Zi (China Daily)
Updated: 2005-01-22 03:30
Thirteen people died and 18 injured in two separate explosions in Northwest China¡¯s Xinjiang Uygur Autonomous Region as Muslims celebrated the Eid-al-Adha religious festival.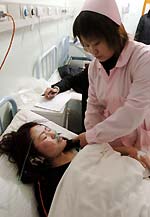 A nurse checks the condition of a woman who was injured during a minibus blast on Thursday in the Kuitun of Yili Kazahk Autonomous Prefecture in Xinjiang Uygur Autonomous Region. The blast claimed the lives of 11 passengers and injured another seven. [newsphoto]

One of the blasts blew up a bus carrying 18 people about noon on Thursday at an overpass called Dushanzi in Kuitun, Yili Kazahk Autonomous Prefecture. Nine passengers were killed at the scene, two died at a hospital, according to Xinhua news agency.

By Friday noon, two were in critical condition and five others remained in the hospital.

Liu Yaohua, head of the public security department of the autonomous region, was quoted as saying that 19 people were on the bus. A man and a woman got off during the trip, heading for a nearby driving school, while a man in his 40s got on when the bus approached the overpass while carrying a black canvas bag.

According to Liu, the blast was spotted at the right tail of the bus.

He told Xinhua that the kind of explosives and why they exploded remain unknown, but it has been confirmed the blast was man-made.

He added that police were gathering residue and trying to seek clues.

Workers at a nearby company said they went to help after hearing the explosion, according to the report. They said it was quite a sad scene in the bus.

The local police bureau did not give out more details on the incident on Friday, saying that it was still under investigation. Another blast happened 4:10 pm on the same day at the downtown area in Urumqi, capital of Xinjiang, killing two and injuring 11.

Huang Gongyi, an official with the Urumqi government, said that the accident was caused by natural gas leakage, according to initial investigation. The dead and injured were mainly passers-by.

The site is a pressure-adjusting station at a local gas pipeline fi rm and the blast blew out a 9-square-metre hole.





Today's Top News
Top China News

Captors air new demand for release




Britain backs EU in lifting arms ban




Nations fierce smut war wages onward




Auditors reveal truth about State assets firms




Power shortage causes blackouts nationwide




Disaster forecasting system to be upgraded