Britain backs EU in lifting arms ban
By Jiao Xiaoyang (China Daily)
Updated: 2005-01-22 03:06
British Foreign Secretary Jack Straw on Friday reassured Chinese officials about Britain's support of lifting the European Union's (EU) arms embargo on China, but said no timetable on a decision had yet been reached.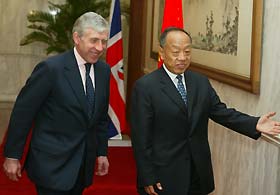 Foreign Minister Li Zhaoxin[R] meets with his British counterpart Jack Straw in Beijing on January 21, 2005. [newsphoto]

"I've made the British Government's position clear when I gave evidence to the House of Common's Select Committee," Straw said at a joint news conference with his Chinese counterpart Li Zhaoxing in Beijing on Friday.

But he did not predict when the EU will make a formal decision.

Straw has told a Parliamentary committee that Britain will support removing the arms embargo "subject to satisfaction of the issues laid out by the European Council in December."

China has repeatedly called for lifting the embargo as soon as possible.

"The arms embargo is hurting not only Chinese interests but also European interests," said Wu Jianmin, president of the China Foreign Affairs University, who has worked in Europe for years.

"It is incompatible with our strategic partnership," Wu said at a foreign policy seminar on Friday, which Straw attended. But some see the lifting of the embargo as more about mood than money.

"Even if the embargo is scrapped there will be a host of tough criteria to limit the export of arms sales to China," said Gu Junli, head of the Institute of European Studies at the Chinese Academy of Social Sciences.

He said lifting the embargo will not usher in any massive increase in the trade of weapons, as many have imagined. "The nature of the arms embargo is political discrimination," said Gu.

Foreign Ministry spokesman Kong Quan said on Thursday China has no plans to go on a shopping spree for weapons, even if the EU removed the embargo. He said the country adopts a "defensive" line in its national defence strategy.

Straw also said that diplomatic efforts to solve the Iranian nuclear issue will go on.

"What I hear from the United States, Washington, (and) President Bush is support for the diplomatic approach, which European countries - Germany, France the United Kingdom have taken," he said when fi elding questions at the foreign policy seminar.

Tourism and market economy Britain, the largest European investor in China, is also in favour of granting China full market economy status within the EU, said Straw.

"We've been strong supporters of China's case to achieve market economy status inside the European Union," he said, noting that a unanimous decision has yet to be reached within the EU on this issue.

Earlier on Friday, Straw signed a memorandum of understanding with Director General He Guangwei of the China National Tourism Administration, making Britain an approved tourism destination for Chinese travellers.

Britain will replace Luxembourg as the EU's rotating president for the second half of this year.

Premier Wen Jiabao met with Straw on Friday before he ended a one-day visit in Beijing and left for Hong Kong.





Today's Top News
Top China News

Captors air new demand for release




Britain backs EU in lifting arms ban




Nations fierce smut war wages onward




Auditors reveal truth about State assets firms




Power shortage causes blackouts nationwide




Disaster forecasting system to be upgraded