Lower prices push pirate books off shelves
(Xinhua)
Updated: 2005-01-21 21:58
Xinhua Bookstore in Wuhan has started offering year-round discounts to buyers in a bid to combat piracy.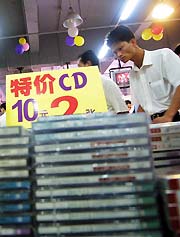 Imported CDs, VCDs and DVDs are sold at discounts in Chuangxin Bookstore in Haikou, capital city of South China's Hainan Province, a bid to curb priate publications. [newsphoto]

Sources from the arm of the 70-year-old Xinhua Bookstore Chain, China's largest book retailer, based in the capital of Central China's Hubei Province, said shops had reported increased sales in the first week of 2005.

Many private bookshops have started to feel the pinch from piracy, said Li Bing, general manager of Xinhua Bookstore Wuhan.

He said discounts could be an efficient way to challenge pirated copies of legal publications, despite inevitable profit loss.

The State-owned Xinhua Bookstore Chains sell more 200,000 kinds of books, and they have a monopoly on textbooks for primary and middle schools.

Total sales have shot from 160 million yuan (US$19.3 million) in 2000 to approximately 300 million yuan (US$36.2 million).

Over the past few years, discounts have been given only as a seasonal marketing promotion, usually limited to certain kinds of books, Li said.

Visits to Xinhua Bookstore shops have been on the decline due to factors such as a rising number of subscribers of electronic publications and higher book prices.

Professor Fang Qing with the Information College of Wuhan University said prices were one of the key factors that had led to a rampant supply of pirated publications.

"Higher prices stop the general public being able to absorb cultural nutrition or legal publications," said Fang, "When buying books and reading become a luxury in life, no wonder fewer and fewer people will turn to legal publications."

To win over customers, the Xinhua Authorities tried offering a 20 per cent discount on all books year round at one of their wholesale centres at the Wuhan City Book World in 2000.

Reader Yang said he used to buy cheaper but low-quality books at a private bookstore.

"Now with quality guaranteed, plus discounts all the year round, I'd rather buy books with Xinhua Bookstore chains, where we have wider options -- not only quality books, but also quality audio- video products -- to select from under one roof," said Yang.

Ping Shuqiao, chief with the Publications Marketing Section of Hubei Provincial Bureau of Press and Publications, acknowledged that discounts could push pirate publications further off the shelves. "Fixing high prices for books and selling them at discounts is by no means a sophisticated way of marketing books," said Ping.

China's current regulations on marketing stipulates the rights and legal obligations of aspects such as qualifications for marketing, content, form and venue, but not pricing.




Today's Top News
Top China News

Captors air new demand for release




Britain backs EU in lifting arms ban




Auditors reveal truth about State assets firms




Power shortage causes blackouts nationwide




Disaster forecasting system to be upgraded




Lower prices push pirate books off shelves