Militants demand travel ban to save hostages
(Agencies)
Updated: 2005-01-21 21:41
Iraqi insurgents who have threatened to kill eight Chinese hostages told the Chinese government Friday they would treat them "mercifully" if it banned all Chinese nationals from entering Iraq.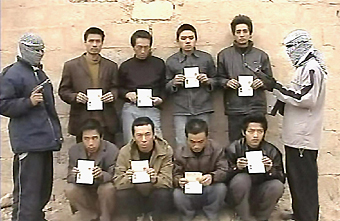 A video grab image shows eight hostages holding Chinese passports standing before a mud brick wall along with two masked gunmen. The kidnappers threathen to kill them within 48 hours unless China clarifies its stance on Iraq. [Reuters]

The men were abducted earlier this month, and China ordered its embassy in Iraq to push hard for their release after a 48-hour deadline set by their captors for an explanation of why they were in the country passed Thursday with no word on their fate.

"We ask your government to issue a statement forbidding Chinese citizens from entering Iraq and this will be considered as a positive gesture and will make us look mercifully on the detainees," the insurgents said in a video obtained by Reuters.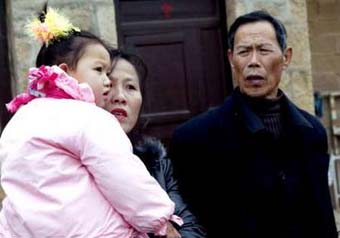 Relatives of Lin Zhong, a Chinese national kidnapped in Iraq, react after hearing the bad news in Pingtan, east China's Fujian province, January 19, 2005. [newsphoto]

The men, looking tired and frightened, were shown lined up in front of a mound of earth holding their Chinese passports in front of them. One of the hostages squatted with head bowed.

Friday's video was the second issued by the insurgents since the men were taken hostage, but it set no deadline for compliance by the Chinese government, which has been a critic of the U.S.-led invasion of Iraq.

China's Foreign Ministry has already urged Chinese nationals not to travel to Iraq, citing a grave security threat.

Families of the eight, who went to the Middle East in search of jobs, pleaded Thursday for their safe return.




Today's Top News
Top China News

Winter power shortage causes blackouts nationwide




Militants demand travel ban to save hostages




Space mission set: two to orbit in Shenzhou-VI




FM spokesman: 'China a victim of terrorism'




Bush takes oath of office for second term




Online gambling sees 600 arrested