Fate of hostages unknown as deadline passes
(Agencies)
Updated: 2005-01-21 15:16
Iraq could mobilise "special troops" to free eight kidnapped Chinese nationals, Iraqi ambassador in China was quoted as saying after a deadline set by the men's militant captors, who threatened to execute them, had passed.
Iraq's ambassador in China Mohammad Ifmeiio was quoted by the Beijing Youth Daily as saying the interim government was exploring all avenues to win the men's release, "even mobilising special troops".
He could not be reached Friday.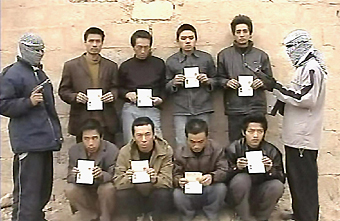 A video grab image shows eight hostages holding Chinese passports standing before a mud brick wall along with two masked gunmen. The kidnappers threathen to kill them within 48 hours unless China clarifies its stance on Iraq. [Reuters]

Foreign Minister Li Zhaoxing said the government was working day and night to free the hostages, whom the militants had threatened to execute unless Beijing "clarified" its position on Iraq by Thursday.

"Every hour, we are in contact with our embassy in Baghdad," Li said.

The foreign ministry Friday said it had no new information but posted a statement on its website in which Li called on China's ambassador in Iraq Yang Honglin to ensure the men, aged 18 to 40, were saved.

"Once again he expressed our nation's leaders' concern about the kidnapped Chinese citizens' safety and demanded the ambassador and the embassy make every effort with the help of the Iraqi people to help free them as soon as possible," it said.

The embassy in Baghdad declined to comment Friday but told Xinhua news agency it was maintaining contacts with Iraqi governmental and non-governmental parties.

Chinese diplomats have been talking with the Committee of Muslim Scholars, which helped win the release of seven Chinese taken hostage last year.

The influential body of Sunni Muslim clerics was quoted by Chinese media Thursday as saying it was optimistic the men would be released.

On Tuesday kidnappers reportedly from the Movement of the Islamic Resistance Nuamaan Brigade released footage to Al-Jazeera television of the eight laborers holding Chinese passports.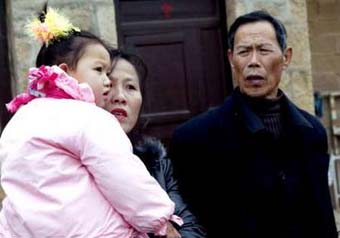 Relatives of Lin Zhong, a Chinese national kidnapped in Iraq, react after hearing the bad news in Pingtan, east China's Fujian province, January 19, 2005. [newsphoto]

It claimed they were helping the US military build facilities in Iraq and demanded Beijing "clarify" its position on Iraq within 48 hours or the hostages would be executed.

The government and employers of the plant the eight men were helping build have both denied there was any link to the United States.

Beijing opposed the US-led invasion of Iraq in 2003 but, like other nations, its companies have chased lucrative reconstruction contracts in the war-ravaged country.

Vice President Zeng Qinghong was quoted as saying Friday that rebuilding Iraq "not only relates to the war-torn nation's future but also influences regional stability".

"China is willing to offer assistance in the effort," Xinhua cited him as saying.

"China hopes the upcoming Iraqi election will help maintain independence, sovereignty and territorial integrity of Iraq," he said.

"Through the election, China hopes a new government that represents the interests of all sectors within the country can be set up."

China has previously pledged US$25 million towards rebuilding efforts and has indicated it was prepared to write off a large part of the estimated 5.8 billion dollars owed to it by the ousted Saddam Hussein regime.

The government also donated US$1 million in aid towards this month's elections.

Iraqi Vice President Rowsch Nuri Shaways, in Beijing on a previously scheduled trip, said his government would exhaust "every effort" to make sure the men were freed.

In a meeting with Zeng, Shaways, a member of the Kurdistan Democratic Party, said he "regrets the crisis and the Iraqi people and government have strongly condemned the militants".




Today's Top News
Top China News

Winter power shortage causes blackouts nationwide




Fate of hostages unknown as deadline passes




Space mission set: two to orbit in Shenzhou-VI




China, Canada sign energy agreements




FM spokesman: 'China a victim of terrorism'




Bush takes oath of office for second term