Protesters target Bush's inauguration
(Agencies)
Updated: 2005-01-21 10:30
Anti-Bush demonstrators waving signs that said "Worst President Ever" and "the American Nightmare" jeered the president's motorcade during the inaugural parade Thursday.
The procession of cars sped up as President Bush neared the designated location for protesters on Pennsylvania Avenue. Two rows of police lined the street in front of the main protest site. Officers stationed atop buildings along the route kept close watch on the crowd.
Boos rained down from the crowd and some demonstrators shouted, "No justice, no peace." In some places in the protest area, the crowd was about six rows deep.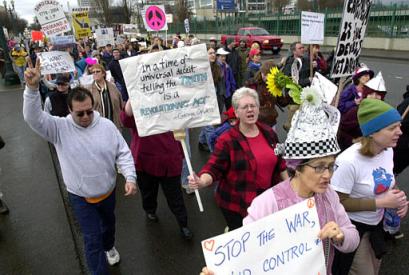 Protesters, many carrying signs and wearing homemade aluminum hats, walk through the streets of Portland, Ore., Thursday, Jan. 20, 2005, during a demonstration against the inauguration of US President Bush for his second term. [AP]

Three blocks from the White House, protesters tried to rush a security gate and a flag was burned. Police briefly locked down the area, trapping some 400 to 500 spectators.

Annie Katz, 52, of New York, was at the rear of a group of protesters, but she said the experience was worth it despite the bad view. Katz said she was upset by the 2000 election, but "I'm angrier this time, since I'm angry about the war."

U.S. soldiers in dress uniforms and blue coats were greeted with chants of "no more wars."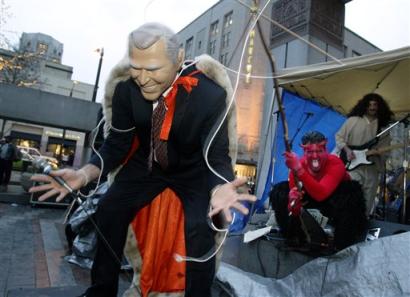 A band portraying US President Bush as a marionette controlled by Satan performs at a protest against the inauguration of President Bush and the war in Iraq Thursday, Jan. 20, 2005, in downtown Seattle. [AP]

Some rallying against the war carried coffin-like cardboard boxes to signify the deaths of U.S. troops in Iraq. Some of their chants could be heard as Bush neared the end of his inaugural address. The president continued speaking without interruption and there was no sign that he heard them.

Police said at least 10 people were arrested during the inaugural ceremonies. Sgt. Scott Fear of the U.S. Park Police said four women who were protesting the wearing of furs were arrested after they disrobed in the near-freezing temperatures.

District of Columbia police said they had to use pepper spray to break up a "push and shoving match" between officers and protesters near the start of the parade. A police spokesman said at least one officer was slightly injured.

Police and witnesses said a security checkpoint near the White House was briefly shut down after being blocked by protesters.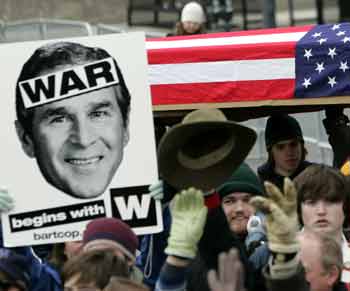 Protesters hold up a flag-draped coffin as U.S. President George W. Bush passes by during the inaugural parade in Washington, January 20, 2005. Flag-draped coffins and jeering anti-war protesters competed with pomp and circumstance on Thursday at the inauguration of President George W. Bush along the barricaded streets of central Washington. [Reuters]

Witnesses said the protesters started pulling down flags and inaugural banners from lampposts, and said police used pepper spray on some protesters.

Julie Katz, 39, of Fairbury, Neb., watched from a sidewalk as a ring of police in riot gear kept protesters a few dozen yards from the checkpoint.

"This is what makes America great. It's a little disrespectful, but it's their right to protest," said Katz, who volunteered for Bush's 2004 campaign.

While President Bush was watching the parade from his reviewing stand in front of the White House, a group of anti-war protesters a block away unfurled a banner reading, "George Bush: Your wars shame U.S." Eight protesters lay down in the street pretending to be dead, with flowers strewn over their bodies.




Today's Top News
Top World News

Captors of Chinese hostages air new demand for release




Britain backs EU in lifting arms ban




Auditors reveal truth about State assets firms




Power shortage causes blackouts nationwide




Disaster forecasting system to be upgraded




Lower prices push pirate books off shelves