Six guards killed at Mexico prison on U.S. border
(Agencies)
Updated: 2005-01-21 08:37
Six guards were found murdered outside a high security prison on Mexico's border with Texas on Thursday in the latest bloody episode in weeks of prison violence being blamed on powerful drug gangs.
Troops sealed off the Matamoros penitentiary and federal agents removed the bodies, some of them blindfolded, from a four-wheel drive Ford riddled with bullets about half a mile from the prison watchtower.
The Ford was sprayed with blood and its rear windshield was smashed. Helicopters circled overhead and scores of troops stood guard.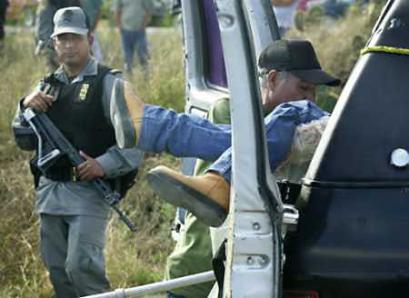 A coroner lifts one of six prison guards and workers who were found shot dead in a car outside Matamoros federal prison in northeastern Mexico, January 20, 2005. The murders are the latest in a string of murders and security breaches blamed on organized crime at Mexican federal prisons. [Reuters]

Interior Minister Santiago Creel said the murders were in retaliation against a government crackdown on prisons, where powerful drug barons often have continued to do business.

"Precisely because we are cleaning the prisons, because we are reviewing law enforcement, because we are advancing against organized crime like no other administration previously, that is why these things are happening," Creel told a news conference.

In recent weeks, Mexican prisons have seen a series of killings and escapes, prompting tighter security, administrative resignations and federal investigations into prison authorities.

Last week 750 federal soldiers and police took control of the maximum-security prison La Palma outside Mexico City, seeking to head off more violence and a rumored planned break-out attempt following three murders there.

Five high-profile convicts, among them leading drug dealers, were moved from La Palma to other penitentiaries, including the one at Matamoros.

Earlier this week three prisoners escaped from a jail on remote islands off Mexico's Pacific coast.

Violence along the U.S. border has surged in recent months as drug lords jockey for position, and it has spilled into the prisons.

Feuding inside La Palma reached its peak three weeks ago when Arturo Guzman, the brother of escaped drug gang chief Joaquin Guzman, was shot to death in La Palma.

Joaquin Guzman, head of the Sinaloa cartel, escaped in 2001 from another maximum security prison. Police say a turf war between his network and the Gulf cartel based in Matamoros is behind a string of execution-style murders.

The latest killings shocked residents living outside the Matamoros prison, many of whom work there.

"We're scared here in town because we don't know what will happen tomorrow," said Maria de los Angeles Tello, who lives in the village of Ejido Santa Adelaida near the prison.




Today's Top News
Top World News

Space mission set: two to orbit in Shenzhou-VI




Hostage release sought: Iraqi VP




China, Canada sign energy agreements




FM spokesman: 'China a victim of terrorism'




Bush takes oath of office for second term




Online gambling sees 600 arrested