Space mission set: two to orbit in Shenzhou-VI
By Zhao Huanxin (China Daily)
Updated: 2005-01-21 02:32
Two Chinese astronauts may be orbiting Earth as early as September, this time spending five days aloft in the nation's second manned venture into outer space, China's space agency chief confirmed yesterday.
Sun Laiyan, who heads the China National Space Administration, also said the country expects to expand exchanges with the United States in space science and applications to further tap co-operative potential.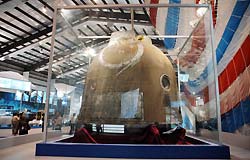 The reentry capsule of the Shenzhou-V spaceship sits on display in Shenzhen on November 11, 2004. [newsphoto]

"Compared with (China's first astronaut) Yang Liwei's solo mission, Shenzhou-VI will carry two men to circle the globe for five to six days sometime in September or October," Sun told China Daily.

"If the flight is successful, China's space programme will proceed to space walks and spaceship docking, with the earliest space walks scheduled for 2007," the senior space official added.

Amid widespread media speculation about the nation's space programme, the official confirmed the country has been actively preparing for the take-off of another spaceship following its maiden manned mission in October 2003.

"There are more demanding requirements to ensure the reliability of the capsule and safety of two astronauts compared with Yang's flight -- for example in life-support systems," said Sun.

Yang's mission lasted 21 1/2 hours.

Chinese scientists have already worked out problems regarding spacecraft environmental controls and life support, according to a statement issued by China Aerospace Science and Technology, the major manufacturer of the manned spacecraft and its launch vehicle.

Sun said there is an arrangement for astronauts to move from the spaceship's re-entry module to live and do scientific tests in the craft's orbital module.

Due to optimization of its configuration, the spacecraft will hardly hold more weight on the second launch, though it will carry the second astronaut and fly the extra days.

It will again be launched atop a China-manufactured Long March 2F rocket, he said.

Asked if Yang Liwei will be part of the second mission, Sun said no decision has yet been made about the crew's makeup.

But he said the duo will be chosen from the same 14 fighter-jet pilots who were part of the first selection process in which Yang was chosen.

Finalists will not be announced until one or two days before the designated launch, based on astronauts training performance, psychology and mood, he said.

Manned space activity aside, China also plans to send about five satellites into orbit this year, including foreign-made communications satellites and several others for scientific experiment, he said, declining to specify further details.

Co-operation with the US

Sun said he looks forward to meeting his US counterpart this year when the National Aeronautical and Space Administration (NASA) administrator makes a trip to China.

Sun met with NASA chief Sean O'Keefe in Washington in early December, and Sun said he believed the talks paved the way to further bilateral relations.

That was the first meeting between the two agencies since 1996.

There is broad space for China and the United States to collaborate, such as in space technology applications and space science -- including exploration of outer space, Sun said.

He stressed more understanding between the two is paramount, since there is some misunderstanding in the United States that China might try to acquire space technology for other purposes.

Sun said such speculation is totally groundless, noting the country has always relied on itself and developed space technology independently.

The official said his agency representatives will participate in a NASA-sponsored workshop on deep space exploration at the University of Maryland in College Park in April.

International co-operation on space programmes allow partners to supplement each other's advantages and share risks and costly investments, he said.