Iraqis assure full help on release
By Li Dapeng, Jiang Zhuqing, Jiao Xiaoyang (China Daily)
Updated: 2005-01-20 23:52
Iraq will exhaust every effort to help eight Chinese citizens abducted in Iraq gain their freedom as soon as possible, Iraqi Interim Government Deputy-President Rowsch Nuri Shaways said Thursday during a meeting with Vice-President Zeng Qinghong.
Shaways said he regrets the crisis and the Iraqi people and government have strongly condemned the militants for holding the Chinese from Fujian Province.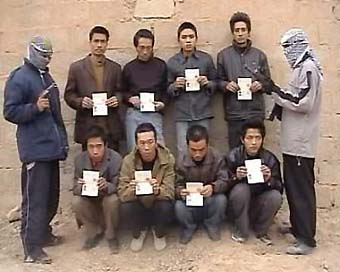 A frame grab taken from amateur video footage January 18, 2005 shows two masked gunmen guarding eight Chinese hostages at an unknown location in Iraq. [Reuters]

Zeng stressed that Chinese leaders have placed the greatest importance in solving the situation, and said the government and people hope the Iraqi Government will adopt all possible means to assure the safety of the hostages and help them be reunited with their family members at home.

The vice-president said the foreign ministry and the Chinese Embassy in Iraq are doing their best to resolve the situation.

Zeng said that reconstructing Iraq not only relates to the war-torn nation's future but also influences regional stability, and noted China is willing to offer assistance in the effort.

China hopes the upcoming Iraqi election will help maintain independence, sovereignty and territorial integrity of Iraq, Zeng said. Through the election, China hopes a new government that represents the interests of all sectors within the country can be set up.

Shaways said Iraq appreciates China's stance and policies on the Iraqi issue, and hopes to receive additional support from China.

Foreign Minister Li Zhaoxing said the government is working day and night on the hostage issue.

"Every hour, we are in contact with our embassy in Baghdad," Li said.

Foreign Ministry spokesman Kong Quan said: "for the sake of the hostages' safety, there is nothing new to say."

"But one thing for sure is that related government departments will take all measures to rescue the Chinese citizens,'' he said.

"It is hoped the issue can be resolved as soon as possible and our citizens can be back to the homeland and unify with their families."

Kong said Chinese people always have friendly feelings toward Iraqi people, and the Chinese Government handles Iraq-related issues with a view to defend Iraqi people's fundamental interests.

Jia Qinglin, chairman of the National Committee of Chinese People's Political Consultative Conference, also said Chinese people cherish their friendship with the Iraqi people, and have always sympathized with them.

China will promote cooperation and personnel exchanges with Iraq in accordance with the principles of mutual respect, equality and reciprocity, Jia said.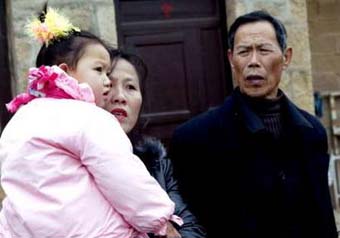 Relatives of Lin Zhong, a Chinese national kidnapped in Iraq, react after hearing the bad news in Pingtan, east China's Fujian province, January 19, 2005. [newsphoto]

The Chinese embassy on Wednesday contacted the Iraq Muslim Presbytery, which helped in the release of seven Chinese hostages last April, expressing the hope that the organization would again play a key role in seeking the release of the eight now being held.

Chinese officials later visited chairman of the Presbytery, Harih Al-Dhari, to urge him to help locate the hostages and to appeal to the kidnappers for their release.

Arab TV stations and websites on Wednesday broadcast the stance of the Chinese Government on Iraq and the Iraqi people after a press conference held by the Chinese embassy on Tuesday evening.

The pan-Arab al-Jazeera TV channel, which showed a video tape of the eight Chinese being flanked by masked gunmen, also air a wire interview with Chinese Foreign Ministry officials.

The kidnappers asked the Chinese Government to make clear its position on Iraq as a condition for their release.

Victims in April 2004

Wei Weilong, 28, one of the seven workers who were taken hostage in April 2004 and was released later, is now making a living by making fish balls in Audong Township.

Wei told reporters that he failed to find a job after he arrived in Iraq. Later, he was kidnapped by local militants, though they did not harm him or the other hostages.

"Life is tough for me," Wei said. He told China Daily that he is now heavily indebted, owing 50,000 yuan (US$6,000), money he borrowed before he went to Iraq last year. However, he can only earn 3,000 yuan to 4,000 yuan (US$362-483) a year.

Wei expressed gratitude that the government helped get him back home.

A relative of Xue Yougui, also a hostage released last year with Wei, told reporters that when Xue was kidnapped in Iraq last year, his child was only several-months old then. Now, Xue works as a fisherman.




Today's Top News
Top China News

Iraqis assure full help on release




China, Canada pledge further cooperation




Duet Chinese to orbit Earth this autumn




Briefing: 'China a victim of terrorism'




Online gambling sees 600 arrested




Cellphone users send 217.7 bn SMS in 2004