China, Canada pledge further cooperation
(Xinhua)
Updated: 2005-01-20 23:35
China and Canada agreed Thursday to improve cooperation in international affairs, ranging from the Korean Peninsula nuclear issue, regional peace and the prevention of communicable diseases.
In a joint statement issued Thursday in Beijing, the two sides vowed to undertake regular consultations under the aegis of the United Nations and other multilateral institutions for the development of a "peaceful, prosperous and sustainable world."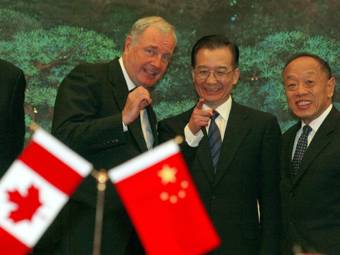 Visiting Canadian Prime Minister Paul Martin (L) and his Chinese counterpart Wen Jiabao (C) pose for photographs as Chinese Foreign Minister Li Zhaoxing looks on during a signature ceremony Thursday in Beijing. [newsphoto]

The statement said that Canada and China affirmed their commitment to a nuclear weapon-free Korean Peninsula. It also said the countries supported a peaceful multilateral solution to the nuclear issue on the Korean Peninsula through the six party talks.

They also agreed to advance non-proliferation, arms control and disarmament objectives. The countries said they would support and strengthen the international treaty system and multilateral regimes and will continue to cooperate in the fight against terrorism and trans-national organized crime. These goals are all on the basis of the United Nations and its Charter and agreed standards and institutions, according to the statement.

In the statement, China reaffirmed that there is only one China in the world; that the government of the People's Republic of China is the sole legal government to represent all of China; and that Taiwan is an inseparable part of Chinese territory.

In response, Canada reaffirmed its adherence to its one-China policy and is opposed to any unilateral action by any party aimed at changing Taiwan's status and escalating tensions which would have an impact on the political stability and prosperity of East Asia.

The two sides also vowed to sharing information in a timely manner and coordinating national efforts to prevent the spread of infectious diseases, including HIV/AIDS and new communicable diseases like SARS and avian influenza, the statement said.

On human rights, the statement said the two exchanged views on human rights and the fundamental importance of respecting and protecting these rights.

"We highly value the annual bilateral human rights dialogue held between Canada and China, which contributes to a greater mutual understanding of human rights issues," said the statement, adding that both sides express support for the broadening and expansion of dialogues and exchanges in the field of human rights.

The joint statement was issued after the hour-long discussions between Chinese Premier Wen Jiabao and visiting Canadian Prime Minister Paul Martin.




Today's Top News
Top China News

Japanese minister touts Shinkansen in Beijing




Briefing: 'China a victim of terrorism'




Families of hostages in Iraq issue plea




Airlines sign ground service pact




Four more years of Bush agitates world




Cellphone users send 217.7 bn SMS in 2004