Police have caught nearly 600 people across China while investigating a series of online gambling cases that are related to a Taiwan company.

The cases involve more than 500 million yuan (US$60.5 million) of gambling funds, said Tong Jianming, an official with the Ministry of Public Security, yesterday in Beijing.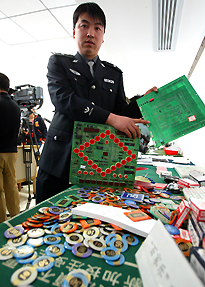 Staff from Beijing Public Security Bureau yesterday show various gambling tools which they confiscated recently from gambling activities. [newsphoto]

Some 23 million yuan (US$2.8 million) has been seized, he said.

Reports received by security forces showed that the Baoying Company, based in Taichung of Taiwan Province, had been co-operating with mainland criminals in organizing online gambling since March.

Gamblers, usually told by friends who had played before, log in to such sites as http://888.kk-in.net to register and play, Tong said.

According to Tong, 597 people in 22 provinces, autonomous regions and municipalities had been caught by December 27, including 395 organizers and 202 gamblers.

Tong said some government officials are among them, but did not give any details.

Among the arrested is Beijing resident Wang Xin, the Baoying Company's Beijing agent, whose gang had organized gambling that involved 116 million yuan (US$14 million) since last May.

In another development, Beijing police announced yesterday that they have smashed a large-scale online gambling scheme and an organizer surnamed Gu was arrested on January 14.

Preliminary investigation shows that at least 37 local gamblers have connections with Gu and they bet on different kinds of soccer matches worldwide, such as the Italian Serie A and the Football Association Premier League of England.

Money for online gambling is mostly sent through credit cards such as Visa or through wire transfers.

The police have confiscated seven computers involved in the gambling at Gu's home in the city's Xicheng District.

The data on the computers indicate that the group's gamblers had probably plunged 1.1 billion yuan (US$133 million) in gambling during the past six months, according to the Beijing Daily.

So far, more than 80 million yuan (US$9.7 million) has been proved to be involved, said Yu Hongyuan, vice-director of the Beijing Public Security Bureau.

Gu is a second-level agent of a larger transnational online gambling network. He had confessed that a man surnamed Jin is at a higher level but they contacted each other only through the Internet. Jin is now at large.

Yu said online gambling is much more difficult to crack down than traditional gambling as the deals of the former are all conducted through the Internet.

"Collecting evidence of online gambling is a hard nut to crack. It's a brand-new gambling means and imposed great challenges in our work," said Yu, one of the leading officials in the ongoing crackdown on rampant gambling in the city.

The police's achievements were made during a national blitz against gambling, which was launched by the ministry early last week.

Gambling overseas, online gambling and illegal lotteries are the major targets of the campaign.

A judicial explanation of the campaign is being studied and designed, according to a Xinhua News Agency report on Wednesday.

The explanation is expected to define online gambling crimes and distinguish illegal gambling from entertainment activities, the report said.

Chinese have a tradition of playing mah-jong with relatives and friends during festivals and holidays. Such playing usually allows a certain amount of betting.

The blitz will not regard such entertainment activities as a crime, but it needs to be made clear the difference between them and gambling, Xinhua said.

Tong said yesterday an important criteria is to see whether an activity is profit-oriented.

In the case of gambling, both gamblers and organizers definitely carried out their activities for financial gain, while relatives and friends just play for fun.

Tong said the judicial explanation will come out soon.