FM spokesman: 'China a victim of terrorism'
By Jiao Xiaoyang (China Daily)
Updated: 2005-01-20 22:51
An allegation of a Chinese connection to a reported terror threat in Boston has yet to be substantiated, Foreign Ministry spokesman Kong Quan said.
"I remind you that up to now all media reports (on the event) said the information is 'uncorroborated,'" Kong said at a regular news media briefing Thursday.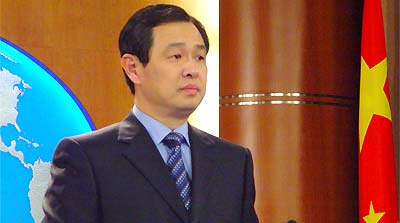 Foreign Ministry spokesman Kong Quan listens to a question at the press briefing on January 20, 2005. [www.fmprc.gov.cn]

He was responding to a question on an ongoing US Federal Bureau of Investigation probe of an unconfirmed report of a so-called "dirty bomb" threat in Boston in which four Chinese nationals are suspected to have a played a role.

The FBI released photographs of the Chinese and said the four individuals were being sought in connection with the unspecified, uncorroborated tip.

"Information was received by federal law enforcement in Boston today originating from an unknown and uncorroborated source regarding an unspecified potential threat," US federal officials said in a statement.

The investigation has stirred a frenzy of US media reports.

Not commenting on the investigation directly, Kong said China's stance on fighting terrorism remains unchanged.

"We've been firmly supporting the concerted efforts made by the international community to fight all kinds of terrorist activities," said Kong.

"China is among the victims of terrorism," he added.

Arms embargo outdated

Kong ruled out of the possibility of a Chinese shopping spree for weapons if the European Union (EU) lifts its arms embargo against China, said Kong.

"Lifting the embargo will certainly not lead to massive imports of weapons because China adheres to a defensive principle in national defence," he said, when commenting on reports that the EU arms sales to China have soared over the past year.

"I doubt the truthfulness of such reports," said Kong.

He described the embargo as something of an anachronism that needs to be removed.

"The arms embargo is a result of the Cold War and does not tally with the general trend in the development of Sino-EU relations."

"The key to removing the embargo is to eliminate political discrimination, and that will be favourable to Sino-EU relations," Kong said.

The EU arms embargo is as a key topic Chinese officials are going to discuss with visiting British foreign secretary Jack Straw.

Britain will replace Luxembourg as the EU's rotating president for the second half of this year.

Straw is in Beijing today on a one-day visit. He will meet with Premier Wen Jiabao and Foreign Minister Li Zhaoxing.

Straw is also scheduled to sign a memorandum with the National Tourism Administration on making Britain a Chinese tourist destination and will deliver a speech at the Chinese Academy of Social Sciences.




Today's Top News
Top China News

Space mission set: two to orbit in Shenzhou-VI




Hostage release sought: Iraqi VP




China, Canada sign energy agreements




FM spokesman: 'China a victim of terrorism'




Bush takes oath of office for second term




Online gambling sees 600 arrested