Families of hostages in Iraq issue plea
(Agencies)
Updated: 2005-01-20 20:56
Relatives pleaded for the lives of eight Chinese hostages in Iraq as a deadline set by their captors neared on Thursday, and the U.S. military said a Brazilian was also missing following an insurgent attack.
Guerrillas released a video on Tuesday showing the Chinese workers being guarded by gunmen, and said they would kill them unless China -- which opposed the U.S.-led war in Iraq -- clarified within 48 hours why its citizens were in the country.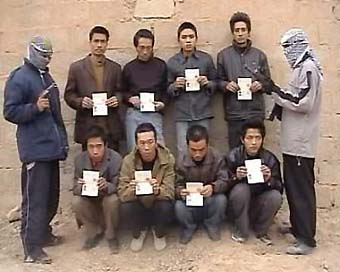 A frame grab taken from amateur video footage January 18, 2005 shows two masked gunmen guarding eight Chinese hostages at an unknown location in Iraq. [Reuters]

As well as abductions, guerrillas trying to topple Iraq's U.S.-backed interim government have launched a series of suicide attacks and ambushes in the runup to Jan. 30 elections.

On Wednesday, at least five suicide bombers struck targets in Baghdad. The U.S. military said 26 people were killed. One of the blasts was a suicide truck bomb attack on the Australian embassy compound in the capital.

Chinese President Hu Jintao has urged officials in Iraq to spare no effort to free the eight Chinese hostages and expressed deep concern over their fate.

"I just hope our government can get them out safely. I'm so worried," the weeping mother of hostage Zhou Sunqin was quoted as saying by the China Daily newspaper.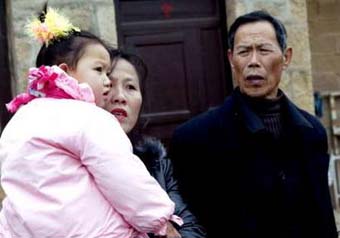 Relatives of Lin Zhong, a Chinese national kidnapped in Iraq, react after hearing the bad news in Pingtan, east China's Fujian province, January 19, 2005. [newsphoto]

A British man working for a London-based security company was killed in an ambush near the northern town of Beiji on Wednesday, along with an Iraqi colleague. The U.S. military said a Brazilian man was missing after the same attack.

"A Brazilian is considered missing ... Iraqi police are investigating the incident," a U.S. military spokesman said.

Japan said it was also checking reports that a Japanese man was seized in the same area, but had no information yet.

DIVISIONS OVER POLLS

The Jan. 30 elections to choose a national assembly have divided Iraq. Most of the country's 60 percent Shi'ite majority strongly back the polls, expected to cement Shi'ite political dominance after decades of oppression under Saddam Hussein (news - web sites).

But an insurgency raging in Iraq's Sunni Arab heartland has disrupted election preparations there. Several leading Sunni Arab parties say they will boycott the poll as it is not safe for their supporters to vote.

Interim Prime Minister Iyad Allawi has insisted the vote go ahead on time, and Washington says any delay would only hand a victory to insurgents.

Opinion polls conducted in the country show around 70 percent of Iraqis would like to vote, if possible.

Australian Foreign Minister Alexander Downer said on Thursday the truck bomb attack on Australia's embassy would not deter the country from its role in Iraq and the elections should not be postponed.

Australia backed the U.S.-led invasion of Iraq to topple Saddam and has contributed troops.

"This attack by fanatics will not deter us to continue to play our role to help with the elections and the emergence of a free Iraq fully in control of its own affairs," Downer said.

"The election absolutely should go ahead. The last thing any of us should do is be intimidated by these fanatics, we cannot afford to be defeated by these people."

An al Qaeda-linked guerrilla group led by Jordanian Abu Musab al-Zarqawi said it had carried out three of the suicide bombings in Baghdad, including the Australian embassy attack.

Zarqawi's group was behind most of the deadliest suicide attacks in Iraq since the fall of Saddam and has beheaded several foreign hostages. Washington has put a $25 million price on Zarqawi's head.




Today's Top News
Top China News

Japanese minister touts Shinkansen in Beijing




Families of hostages in Iraq issue plea




Airlines sign ground service pact




Asian tsunami death toll tops 226,000




Four more years of Bush agitates world




Nation's net surfers top 94 million