China, Grenada resumes diplomatic ties
(Xinhua)
Updated: 2005-01-20 16:25
Chinese Foreign Minister Li Zhaoxing and his Grenadian counterpart Elvin Nimrod signed a joint communique in Beijing Thursday to resume diplomatic ties of the two countries.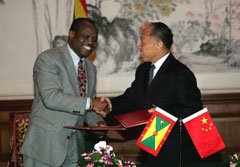 Chinese Foreign Minister Li Zhaoxing (right) shakes hand with his Grenadian counterpart Elvin Nimrod after signing a joint communique in Beijing to resume diplomatic ties January 20, 2005. [Xinhua]

In a meeting with Nimrod, who arrived in Beijing Thursday morning, Li expressed his appreciation for the Grenadian government's decisionon resuming diplomatic relations with China.

"This practice indicates the arrival of a new phase for the development of Sino-Grenadian ties, and paves the way for the two countries to make cooperation in an all-round way," Li noted.

Li said the normalization of Sino-Grenadian relationship conforms with the fundamental interests of the two peoples, and it will strongly promote the exchanges and cooperation between the two countries in various fields.

China cut off diplomatic ties with Grenada in 1989. "Today's resumption of ties reaffirmed to the whole world that "the one-China policy is commonly acknowledged by the international community, and that any separatist attempt of 'Taiwan independence' forces is doomed to be defeated," Li said.

He said the Chinese government "is willing to cooperate with Grenada, in line with the Five Principles of Peaceful Coexistence,in such fields as politics, economy, trade, culture and education," and that he hoped the two sides would "increase personnel exchanges, strengthen mutual understanding and political trust, and send ambassadors and set up embassies to each other at an early date."

Nimrod said resuming diplomatic ties with China is historically significant, and Grenada is willing to develop long-term friendly and cooperative ties with China.

"The Grenadian government recognizes that there is only one China in the world, that the government of the People's Republic of China is the sole legal government to represent the whole China and that Taiwan is an inalienable part of China," Nimrod said.






Today's Top News
Top China News

Space mission set: two to orbit in Shenzhou-VI




Hostage release sought: Iraqi VP




China, Canada sign energy agreements




FM spokesman: 'China a victim of terrorism'




Bush takes oath of office for second term




Online gambling sees 600 arrested