Guinean President escapes attempt on life
(Agencies)
Updated: 2005-01-20 09:17
Guinea President Lansana Conte escaped an apparent assassination attempt on Wednesday when gunmen opened fire on his convoy in the capital of the West African nation, police and state television said.
Conte was unharmed, but a member of a security team riding a motorcycle alongside the convoy was seriously wounded and taken to hospital, a senior police official said on condition of anonymity.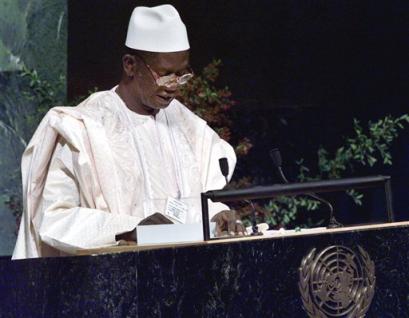 President of Guinea Lansana Conte addresses the 54th Session of the General Assembly at the United Nations in this Sept. 24, 1999 file photo. Gunmen fired on a convoy carrying Guinea President Lansana Conte in an apparent assassination attempt in the capital on Wednesday Jan. 19, 2005 security officials said. [AP/file]

An announcer on state TV also said Conte was not hurt, adding that the president called on all Guineans to remain calm.

Government officials could not be reached to confirm the reports, but presidential guards and soldiers tightened security around the presidential palace and other key installations, including the state radio and TV station.

Troops could be seen patrolling the city in force. A tank blocked a road in one residential neighborhood, where troops stopped passing cars at a checkpoint. Several young men were arrested, tied up and placed in back of military trucks. The city was calm otherwise, residents said.

The attack occurred around Wednesday afternoon near a railroad crossing in a crowded suburb called Enco 5 as Conte was returning from Wawa, his home village, the security official said. Bullets struck several vehicles in the convoy, but did not stop it.

The suburb, 15 miles northeast of the city center, is considered part of the capital, which spreads across a peninsula that juts into the Atlantic.

Conte has ruled the former French colony since seizing power during a 1984 military coup. He is rarely seen in public.

Conte won a landslide election in December 2003 after opposition parties pulled out, alleging Conte had no intention of organizing free or transparent elections. The government denied the charges.

After announcing the assassination attempt, state TV broadcast images of Conte's presidential inauguration last year to mark the first anniversary of the swearing-in ceremony on Jan. 19, 2004.

Guinea has only had one other leader since it gained independence from France in 1958. Former dictator Sekou Toure died in 1984 during heart surgery at a U.S. hospital. Conte, then an army colonel, staged a coup and declared himself president a week later.

Despite rich mineral resources, Guinea is among the world's most-impoverished countries.




Today's Top News
Top World News

Iraqi clerics help seek Chinese hostages' freedom




Japan touts high-speed rail caliber




Asian tsunami death toll tops 226,000




Four more years of Bush agitates world




Nation's net surfers top 94 million




Airlines sign ground service pact