Chinese firms file lawsuit on DVD patent
By Yu Lu (China Daily)
Updated: 2005-01-20 09:10
Two Chinese-based DVD manufacturers have filed a lawsuit against the 3C Patent Group in the United States, alleging that it violated US laws, leading to unfair competition.
The claim was made by Anton Handal, from US law firm Handal & Associates, who is the lead attorney representing the two plaintiffs - Wuxi Multimedia Ltd and Orient Power (Wuxi) Technology Ltd - in the case.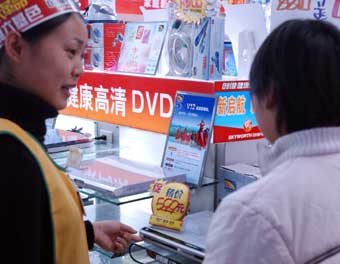 A saleswoman (L) explains the features of DVD players to a customer in a electrical home appliance store in Zhengzhou, Henan Province in this December 21, 2004 file photo. Two Chinese DVD manufacturers have filed a lawsuit, demanding for cessation of patent fees. [newsphoto]

According to Handal, Wuxi Multimedia first filed the lawsuit against the 3C group - consisting of the Sony Corporation, Philips Electronics and the Pioneer Corporation - last June.

While on December 28, the law firm filed an amended complaint, in which Orient Power joined as the second plaintiff.

The complaint added LG Electronics as a defendant and made several new claims.

"We are seeking a judgment that the 3C patent pool is invalid and are calling for a monetary refund of all DVD player royalties collected," Handal said.

The complaint also seeks a tripling of damages, he added.

Philips spokeswoman Sharon Tang declined to comment on the case yesterday.

Handal expressed confidence about winning the lawsuit.

He claimed that the International Trade Commission ruled in March last year that the patent pool arrangement of Philips and Sony violated several provisions of the Sherman Act. The arrangement is virtually identical to the 3C patent pool.

"If the two companies win the case, all Chinese DVD manufacturers will benefit," said Gao Wanjun, an official from the China Electronic Acoustic Equipment Association.

But it will be a long and hard fight, he added.

Patent fees of around US$20 per unit are currently levied on manufacturers of Chinese DVD players, accounting for some 20 to 30 per cent of their production costs.

However, US manufacturers' patent fees are much lower, only 3 to 5 per cent of their production costs.

The high patent fees have hit Chinese DVD manufacturers hard, with exports of Chinese DVD players falling sharply last year.

Gao said that his association has kept negotiating with the 3C group and other foreign firms on lowering patent fees.

"The conflict between manufacturers and patent holders will be solved eventually, on way or another," said Sun Weizhong, the spokesman for Skyworth, one of China's major DVD manufacturers.




Today's Top News
Top China News

Iraqi clerics help seek Chinese hostages' freedom




Japan touts high-speed rail caliber




Asian tsunami death toll tops 226,000




Four more years of Bush agitates world




Nation's net surfers top 94 million




Chinese firms file lawsuit on DVD patent