Airlines sign ground service pact
By Chen Qide (China Daily)
Updated: 2005-01-20 02:46
Shanghai-based China Eastern Airlines signed an agreement with Taipei-based China Airlines yesterday to provide ground services for its Taiwanese counterpart when the latter's non-stop charter flight lands at Pudong Airport on February 5.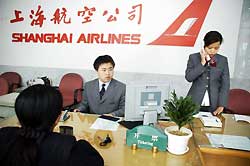 Staff from Shanghai Airlines central ticket counter start to sell tickets for non-stop cross-Straits charter flights for Taiwan business people yesterday. The airlines' 11 ticket counters in the city have started such service. The first flight of Shanghai Airlines will take off from Shanghai for Taipei at 8:45 am on January 29, with return journey costing 3,000 yuan (US$363) while a single trip pricing at 1,500 (US$181). About 100 Taiwan business people have booked seats on the first flight by press time. [newsphoto]

China Airlines will make four flights to the mainland, with two to Beijing, one to Shanghai and another to Guangzhou, said Alex Tung, assistant vice-president of the airlines' Ground Services Division.

Under the agreement, China Airlines will also provide ground services for charter flights operated by China Eastern, which will land at Taoyuan Airport in Taipei.

China Eastern will fly six legs, all bound for Taipei by using 322-seat Airbus A340-600 aircraft, with its first flight at 9 am on January 29.

Luo Chaogeng, president of China Eastern Airlines Co Ltd, will be a pilot in the first three-crew member sortie bound for Taipei.

"We aim to provide the most reliable flights and the most-qualified services for our passengers," Luo said.

China Eastern carried about 500,000 Taiwan business people on its air routes from Shanghai to Hong Kong last year, where they transferred planes.

"So I believe there will be enough passenger demand for these charter flights," he said.

The carrier has opened more than 40 ticket sales outlets citywide. A return ticket between Shanghai and Taipei is priced at 3,000 yuan (US$363) to 3,700 yuan (US$448) and a single ticket at 1,500 yuan (US$182) to 1,800 yuan (US$218).

The General Administration of Civil Aviation of China on Tuesday decided to designate six mainland airlines for cross-Straits charter flights during the coming Lunar New Year holiday.

They are Air China, China Southern Airlines, China Eastern Airlines, Shanghai Airlines, Hainan Airlines, and Xiamen Airlines.

The airlines will operate 24 flights between Beijing, Shanghai, Guangzhou and Taiwan's two biggest cities, Taipei and Kaohsiung, from January 29 to February 20.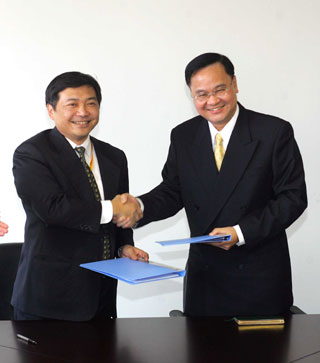 Hu Zhenming (L), general manager of flight planning and international business of China Eastern Airlines, shakes hands with Tung Wei, a deputy director of ground service department of Taiwan-based China Airlines in Shanghai January 19, 2005 after signing a ground service agreement of direct across-Straits flights.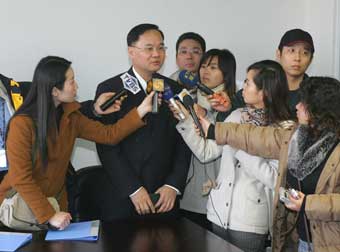 Tung Wei, a deputy director of ground service department of Taiwan-based China Airlines in Shanghai, answers questions from journalists in Shanghai January 19, 2005 after signing a ground service agreement of direct across-Straits flights. [newsphoto]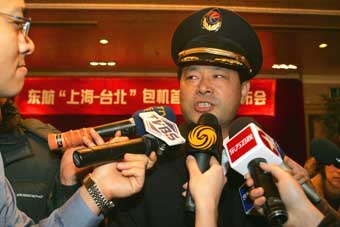 Guan Weidong, general manager of the Shanghai flight department of China Eastern Airline, answers questions at the ground service agreement signing ceremony in Shanghai January 19, 2005. Guan will be the captain of China Eastern Airline's first direct flight to Taiwan later this month. [newsphoto]
Today's Top News
Top China News

Iraqi clerics help seek Chinese hostages' freedom




Airlines sign ground service pact




Japan touts high-speed rail caliber




Asian tsunami death toll tops 226,000




Four more years of Bush agitates world




Nation's net surfers top 94 million