A Japanese cabinet minister's Beijing trip has again drawn people's attention to the nation's express railway project.

Kitagawa Kazuo, Japan's land, infrastructure and transport minister, started a four-day visit on Tuesday at the invitation of China's tourism authority.

The topic of the express railway Shinkansen became a hot one at his press conference on Tuesday.

"Shinkansen is among the first-class high-speed railway technologies in the world," he said.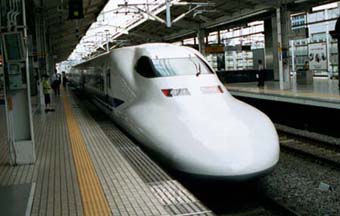 A Shinkansen bullet train in Kobe, Japan. [newsphoto/file]

Since it was opened in 1964, there had never been an accident involving casualties in Japan, Kazuo said.

"China's robust economic growth has prompted infrastructure construction in roads, railways and harbours and we hope Japan's Shinkansen can play its role in the nation's endeavours," the minister said.

The planned Beijing-Shanghai high-speed railway is more than 1,300 kilometres in length, involving a 100 billion-yuan (US$ 12 billion) investment.

Initiated in 1994, the high-speed railway is considered as the second largest project after the Three Gorges Project in terms of investment scale.

Competition for the huge project is becoming increasingly intensified among Japan's Shinkansen, France's TGV and Germany's ICE -- considered the most advanced high-speed rail technology available in the world -- as the project is still awaiting approval from the State Council.

"We hope Shinkansen can play its role in the project but I don't mean to promote the technology here," Kazuo said.

Kazuo met with senior Chinese officials including Vice-Premier Wu Yi and Railways Minister Liu Zhijun and exchanged views on railway technology.

The Ministry of Railways refused to comment about the talks between the two ministers.

According to Kyodo News Agency, Liu spoke highly of Japan's technology during the talk with his Japanese counterpart yesterday, saying China might adopt Shinkansen technology in its high-speed railway project if there were no "obstacles" between the two countries. He did not elaborate on the "obstacles".

Despite the rumoured competitions for the project among France, Japan and Germany, the central government will not make a snap decision about the introduction of the railway technology, said Zhou Wenlong, a senior railway engineer from Shanghai-based CASCO Signal Ltd.

"It might need three to five years before the project was put into operation considering the nation's macro-regulation policies," Zhou said.

Meantime, express railway construction should take into account the safety and economy of the project, so feasibility studies will still need to be scrutinized, he said.