Asian tsunami death toll tops 226,000
(Agencies)
Updated: 2005-01-19 23:29
The global death toll from the Asian tsunami shot above 226,000 Wednesday after Indonesia's Health Ministry confirmed the deaths of tens of thousands of people previously listed as missing.
The ministry raised the country's death toll to 166,320. It had previously given a figure of 95,450 while Indonesia's Ministry of Social Affairs had put the death toll at around 115,000 before it stopped counting.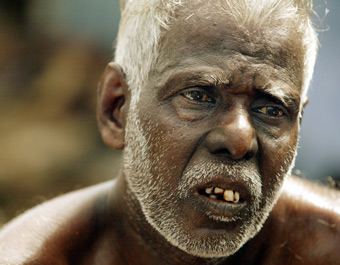 A Sri Lankan man reacts while clearing the debris from his tsunami-ravaged house in the town of Kalmunai on Sri Lanka's east coast January 19, 2005. Sri Lanka upwardly revised its death toll figures on Monday, saying the December 26 tsunami killed at least 38,195 people along the country's south, east and northern seaboard while more than 6,000 are still missing.[Reuters]


Dodi Indrasanto, a director at the health ministry's department of health affairs, said the new death total reflected the latest reports from the provinces of Aceh and North Sumatra, which were directly in the path of the killer tsunami spawned by a magnitude 9 earthquake the day after Christmas.

The new figure lifted the total global death toll from the tsunami disaster to 226,566, although the number continues to rise as more deaths are reported around the region.

Indonesian President Susilo Bambang Yudhoyono, speaking before the health ministry released its latest figures, told a donors conference in Jakarta that the true extent of the catastrophe defied description.

"Perhaps we will never know the exact scale of the human casualties," he said.

Indrasanto said the health ministry report, which had just 6,245 people still listed as missing, had been sent to Yudhoyono late Wednesday.

The ministry's figures said 617,159 people were still homeless in northern Sumatra more than three weeks after the killer wave struck.

INDONESIA OFFERS TALKS

The staggering death count came as Indonesia said it was hopeful of holding talks with rebels in Aceh, where the Free Aceh Movement (GAM) has waged a bloody, three-decade long battle for independence from Jakarta's rule.

Security fears prompted by the GAM conflict have been a worrying backdrop to the massive international relief effort in Aceh, where huge stretches of coastline were laid waste by the earthquake and tsunami that followed.

"Behind the cloud there must be a silver lining. Behind the scenes, a process is happening toward reconciliation," Foreign Minister Hassan Wirajuda said.

Wirajuda said he hoped the talks would take place by the end of the month, but he could give neither a date nor a place. A spokesman for GAM's exiled leadership in Sweden said there had been no progress on talks.

"We haven't had any concrete response from the Indonesian side," said Bakhtiar Abdullah.

A U.N. official in Meulaboh, the province's second city, said emergency aid drops would have to be sharply increased in order to avoid hunger in outlying areas.

GAM's leaders have repeatedly welcomed relief efforts spearheaded by the United Nations and the rebels have said they would not attack aid workers or convoys.

A DEFINING MOMENT

Political concerns have also plagued relief efforts in Sri Lanka, where the Tamil-rebel controlled northeast is waiting to see if it will get a piece of the government's $3.5 billion tsunami reconstruction program.

"The tsunami didn't wash away political divisions. In fact it may have made them worse," said Jehan Perera, director of the National Peace Council in Sri Lanka.

"What we have here is a moment that will define the peace process and politics for years."

Most of those swept up in the tsunami disaster -- which ripped coastal areas of Indian Ocean nations as far away as Africa and left more than 1.5 million people homeless around the region -- had far more pressing concerns.

Across Aceh's ravaged west coast, survivors were few and many villages were virtual ghost towns. In others, a mosque was the only building left standing.

In the province's second city Meulaboh, almost sliced in half by the killer wave, mountains of rubble smoldered and electricity was intermittent. But some shops and markets were busy, and food appeared to be available.

Daniel Augstburger, head of United Nations Office for the Coordination of Humanitarian Affairs (OCHA) in the coastal city of Meulaboh, said not enough help was reaching people outside of major urban areas.

"The French are starting to move food, of course the Americans....are moving food out, but this has to increase ten-fold, I would say," Augstburger told Reuters, adding that tsunami victims also needed items such as clothes and cooking utensils.

In Sri Lanka, residents of a tsunami-ravaged town packed up and left -- ready to re-establish their community 1.5 km (about one mile) inland as a precaution against any other surprises from the sea.

"This will give our people a better future, a safer future," said fisherman M.J. Raseek, a resident of Hambantota who planned to follow his town away from the coast.

The International Monetary Fund said it hoped to approve Sri Lanka's emergency request for up to $160 million in assistance, while Indonesian officials told donors that the tsunami would likely cost the country around $4.5 billion.

Governments, aid groups, individuals, corporations and international agencies have pledged more than $7 billion in aid to Asia's tsunami victims.

But donors have to date promised just $739 million of the $977 million the U.N. system says is needed in emergency aid to meet the basic needs of victims over the next six months, according to Kevin Kennedy, a senior official of the U.N. Office for the Coordination of Humanitarian Affairs.




Today's Top News
Top World News

Iraqi clerics help seek Chinese hostages' freedom




Japan touts high-speed rail caliber




Asian tsunami death toll tops 226,000




Nation's net surfers top 94 million




Airlines sign ground service pact




HBV victims face improved job chances