Hostages' families pray for safe return
By Hu Meidong and Raymond Zhou (China Daily)
Updated: 2005-01-19 23:00
Pingtan County, Fujian: Relatives of the eight Chinese nationals taken hostage in Iraq are praying for the quick release of their loved ones from the war-torn nation.
Wednesday, families in Aodong Township, some 120 kilometres from the provincial capital of Fuzhou in the southeastern province of Fujian, explained why their sons, brothers, husbands and fathers took such risks in Iraq.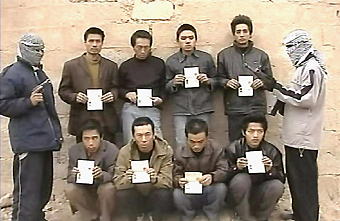 A video grab image shows eight hostages holding Chinese passports standing before a mud brick wall along with two masked gunmen. The kidnappers threathen to kill them within 48 hours unless China clarifies its stance on Iraq. [Reuters]


Lin Zhong, 38, one of the hostages, worked at a gas station before he was laid off two years ago. He took off for Iraq in late 2003, leaving behind his wife, Shi Ping, and two sons one 13 and a 2-year-old.

"He had to pay 30,000 yuan (US$3,600) for the trip," Shi Shouquan, his father-in-law, told China Daily Wednesday.

Lin's wife recently took a job at the local Lanxiang Explosives Factory, which brings in 500 yuan (US$60) a month. The family expects Lin to send back money from Iraq, but jobs are hard to find there, said Shi, and, from what he learned, Lin could not get any work during the first few months after arriving there. He recently found work as a store clerk.

'Nothing to do here'

The mother of Zhou Sunqin, 18, the youngest of the eight, was weeping and could hardly utter a complete sentence: "I just wish our government can get them out safely. I'm so worried. I didn't want my son to work in those places, but we're so helpless... he had nothing to do here."

Lin Bin's 80-year-old mother is still being kept in the dark. She apparently has a sense of foreboding that something bad might have happened, but nobody -- including a reporter -- dared to break the news to her at the risk of exacerbating her heart condition.

She told China Daily that Lin's daughter is an exemplary student at the Hushan Village elementary school and they hope to reunite soon with the 39-year-old Lin.

Nineteen-year-old Wei Wu, of Aowang Village, left a sister and a brother, both in school, to search for any work that could help support his family.

Wei's father is a bricklayer with a monthly income of just 400 yuan (US$48). Xue Jinjiao, his mother, who appears much older than her real age of 50, works as househould helper in the county town. She did not learn of her son's kidnapping until Wednesday afternoon.

"I only make 200 yuan (US$24) a month as a maid. And we have five mouths to feed. This is all we have from a year of hard labour," she sobbed, pointing to two bags of sweet potatoes.

Pingtan is an island county with a population of 390,000, and is 371 square kilometres in size. The hostages are all from Aodong Township, where per-capita tillable acreage is only 2 fen (about 130 square metres), and farming is not much of an option. On the other hand, fishing is also off limits because villages are about 15 kilometres from the sea.

Chen Shangmei, a fellow villager, revealed that many people took on long expeditions to look for work, sometimes through murky arrangements of people traffickers, or "snakeheads."

Those who can afford it choose destinations like Japan, at the cost of 70,000-80,000 yuan (US$8,400-9,600), or Singapore, at 50,000 yuan (US$6,000). The poor ones have to make do with Iraq, which costs 30,000 yuan (US$3,600).

To finance their trips, job seekers have to borrow from loan sharks, often the same people as the snakeheads, at a rate of 25 per cent a year. And if they are caught, local police will charge a fine of 5,000 more per head.

Police declined to comment on the situation.

There were still traces of posters advertising overseas jobs in Xiangyang Village when a reporter arrived there.




Today's Top News
Top China News

Iraqi clerics help seek hostages' freedom




Nation's net surfers top 94 million




Japan touts high-speed rail caliber




China mulls mail service to Antarctica




HBV victims face improved job chances




Airlines sign ground service pact