Baghdad car bombs kill at least 26
(Agencies)
Updated: 2005-01-19 21:27
Insurgents detonated a suicide truck bomb outside Australia's embassy in Baghdad on Wednesday and hit Iraqi security targets with at least three car bombs, killing 26 less than two weeks before Jan. 30 elections.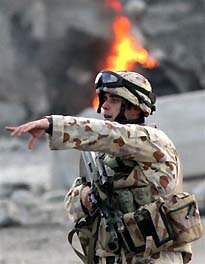 An Australian soldier secures the site after an explosion in Baghdad, Wednesday, Jan. 19, 2005. [AP]

The deadliest attack was a blast near a police headquarters and hospital in eastern Baghdad. The U.S. military said in a statement the bomb killed 18 people, including five Iraqi police, and wounded 21.

Half an hour earlier a suicide truck bomb rammed into the security barriers outside the Australian embassy, witnesses said. Two Iraqis were killed and two Australian soldiers were among several people wounded, officials said.

A third vehicle bomb killed two Iraqi security guards near Baghdad's international airport, and a fourth killed two civilians and two Iraqi soldiers at a military complex in Baghdad, the U.S. military said.

A police source said another bomb also exploded at a Baghdad bank, targeting police as they collected their salaries. Witnesses said at least one person was killed.

Australian ambassador Howard Brown said the truck bomb that exploded near his embassy was close to accommodation for diplomatic security personnel.

"It was a car bomb aimed at the building where the security people are based. It was quite a substantial explosion," he said.

Insurgents have repeatedly targeted Iraqi soldiers and police in the run-up to the elections with suicide bombings and ambushes. Iraqi forces are due to provide protection at polling stations on election day.

On Tuesday, Iraq's U.S.-backed interim government announced a range of unprecedented measures to try to prevent bloodshed during the ballot, with land borders to be closed for three days and vehicles barred from getting close to polling stations.

SUNNIS SEEK POLL DELAY

Iraqi Prime Minister Iyad Allawi and the United States say the elections must go ahead, despite calls from many Sunni Arab politicians for a delay to try to win wider Sunni support for the ballot to choose a national assembly.

Iraq's 60 percent Shi'ite majority is eager for the election to take place as they are likely to emerge in a dominant position after years of oppression under Saddam Hussein.

But many Sunni Arabs, who made up the backbone of the ruling class under Saddam, say an insurgency raging in Iraq's Sunni heartland will make it impossible to hold meaningful polls in some areas. Several Sunni parties have said they will boycott the elections unless they are delayed.

China said it was deeply concerned about the fate of eight Chinese workers kidnapped in Iraq. China opposed the U.S.-led invasion of Iraq but some Chinese are working in the country.

"China's Foreign Ministry and embassy in Iraq should take fast and effective measures and spare no effort to free the hostages," the official Xinhua news agency quoted President Hu Jintao and Premier Wen Jiabao as saying.

A video released by the workers' captors on Tuesday said they would be killed in 48 hours unless China clarified what they were doing in Iraq.

"The position of the Chinese government toward our cause was clear -- not taking part in invasion forces and their aggression against our country," said a voice on the tape, which showed masked gunmen holding the men against a wall.

"We call on the Chinese government to clarify its position on them and other Chinese. We will kill them 48 hours after their pictures are televised unless that is done."

The Chinese state news agency Xinhua said Chinese diplomats in Iraq were working to free the construction workers, who went missing last week. It gave no details of the men's work but quoted sources as saying their building project had no link to U.S.-led multinational forces in Iraq.

A new scandal over the abuse of Iraqi prisoners erupted after British newspapers published pictures on Wednesday of Iraqis apparently being abused.

Some of the front-page pictures showed naked Iraqi prisoners appearing to be forced to simulate anal and other sexual acts, while in another a soldier had his fist raised above a bound detainee who had a net over his torso.

"They are pictures to make us sick with shame," said the top-selling Sun tabloid, as newspapers and opposition politicians warned of long-term damage to the image of Britain's military hours after the court martial of three soldiers began.




Today's Top News
Top World News

Iraqi clerics help seek hostages' freedom




Japan touts high-speed rail caliber




China mulls mail service to Antarctica




HBV victims face improved job chances




Airlines sign ground service pact




Nation's net surfers top 94 million