Britain rocked by pictures of apparent Iraq abuse
(Agencies)
Updated: 2005-01-19 14:52
Britain's newspapers published pictures on Wednesday of Iraqis apparently being abused by British soldiers under "Shame" and "Shock" headlines, in echoes of the Abu Ghraib scandal as a court martial rocked the country.
Some of the front-page pictures showed naked Iraqi prisoners appearing to be forced to simulate anal and other sexual acts, while in another a soldier had his fist raised above a bound detainee who had a net over his torso.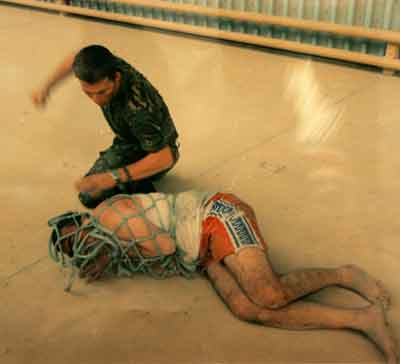 An undated handout photograph, issued on January 18, 2005, that is to be used as evidence in a court martial in Osnabrueck, Germany purports to show Lance Corporal Mark Cooley simulating a punch to an Iraqi detainee. Three British soldiers pleaded not guilty at a court martial on Tuesday to abusing and sexually humiliating Iraqi civilians in May 2003, although one admitted he had beaten a detained man. Lance corporals Darren Larkin and Mark Cooley and Corporal Daniel Kenyon, all from the Royal Regiment of Fusiliers, face charges of mistreating Iraqis during an operation to stop looting in the chaotic weeks after the invasion of Iraq. [Reuters]

"They are pictures to make us sick with shame," said the top-selling Sun tabloid, as newspapers and opposition politicians warned of long-term damage to the image of Britain's military hours after the court martial of three soldiers began.

The Times said the pictures would "provoke outrage in the Arab world and sully the reputation of the British Army."

Some newspapers said Prime Minister Tony Blair, President Bush's closest ally on Iraq, could be hit politically as he prepares to call a general election, widely expected in May.

The emergence of the pictures prompted Britain's most senior general, Sir Mike Jackson, to make a rare public statement in which he said: "We condemn utterly all acts of abuse. Where there is evidence of abuse, this is immediately investigated."

The pictures, released by prosecutors at the court martial at a British military base in Germany on Tuesday, were discovered when laboratory technicians phoned police after a soldier took them to be developed.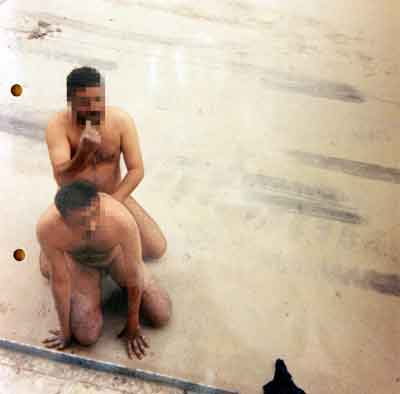 An undated handout photograph, issued on January 18, 2005, that is to be used as evidence in a court martial in Osnabrueck, Germany, purports to show Iraqi detainees simulating sexual acts. [Reuters]

The three British soldiers pleaded not guilty to numerous counts of abuse, although one admitted assaulting a man.

Taken just weeks after the March 2003 U.S.-led invasion of Iraq toppled Saddam Hussein, one of the 22 pictures showed an Iraqi man trussed up in a net and suspended from the prongs of a fork-lift truck.

Another showed a soldier apparently simulating a kick on a bound Iraqi lying in a patch of water.

Prosecutors say the soldiers carried out offences during an operation codenamed "Ali Baba" to stop looting at an aid food depot in the chaotic weeks after the U.S.-led invasion.

The trial is the latest in a series of hearings against U.S. and British soldiers after photographs of abuse by U.S. troops at Baghdad's Abu Ghraib jail emerged last year, sparking worldwide outrage.

Unlike the Abu Ghraib scandal, the trial of the three British soldiers has not sparked allegations of systematic abuse.

But Sir Menzies Campbell, a spokesman for Britain's second largest opposition party, the Liberal Democrats, told Channel Four television: "These pictures will inevitably open all wounds and be part of drawing parallels with Abu Ghraib."

The Financial Times said the case had political risks for Blair's Labour government, which has had to contend with disquiet in its own ranks and among voters over its decision to back Bush over Iraq.

"The allegations threaten to re-ignite the controversy over Iraq, potentially antagonising some core Labour voters less than four months before an expected election," said the newspaper.

Some newspapers said the case could put Britain's 9,000 troops in southern Iraq at risk by fueling anger as the country prepares to hold elections on Jan. 30.

The mainly Shi'ite south has been more peaceful than central areas but guerrillas from the Sunni Arab minority and foreign Islamic militants have been stepping up bombings and assassinations to sabotage the ballot.




Today's Top News
Top World News

Eight Chinese kidnapped in Iraq, rescue underway




Rice: US seeks candid, constructive China ties




Explorers conquer 'inaccessible pole'




Airlines give Taiwan flight details




US, EU must manage China differences: Straw




Regulator mulls steps to aid stock market