US, EU must manage China differences: Straw
(Agencies)
Updated: 2005-01-19 14:02
British Foreign Secretary Jack Straw has acknowledged an EU plan to lift an arms embargo on China would create tensions with Washington but said both sides will have to manage their differences.

Straw, due to meet U.S. Secretary of State-designate Condoleezza Rice next week, said Britain backed the EU plan because it would be accompanied by a stronger code of conduct that would have a wider remit than an embargo.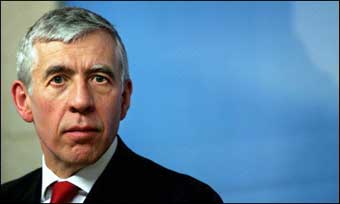 British Foreign Secretary Jack Straw will stop in Japan ahead of a previously announced visit next week to China, it was announced. Straw said January 12, 2005 that he sees the arms embargo to go before July [AFP]

"The presentational problem we have in Washington is that people read the headline `They've lifted the embargo' and it then takes time to explain that the embargo has very limited application," Straw told the Financial Times in an interview on Wednesday.

"The challenge in terms of foreign policy is not to eliminate differences or franchise out policy but to manage those differences," he said.

The United States has been a strong opponent of the European Union lifting the embargo. China calls the ban a Cold War relic.

The 25-member EU is drawing up rules which it says will guarantee greater transparency and ensure arms exported from the bloc are not used in domestic repression or regional conflicts.

U.S. officials say they are not satisfied the new code of conduct will provide sufficient solid blocks against transfers of military technology.

Some in Washington say equipment sold by the EU to China could be used against the United States in the event of a conflict over Taiwan.

Chinese Premier Wen Jiabao told visiting Irish Prime Minister Bertie Ahern on Tuesday that China wanted the embargo lifted because it was an unfair obstacle in relations and not because it wanted to go on an arms buying spree.

Ahern said the embargo would probably be lifted by mid-year.

UK sees China arms embargo lifted before July

British Foreign Secretary Jack Straw said January 12 he thought the European Union's arms embargo on China could well be lifted by July. "I think it is more likely than not that it will be decided under this (Luxembourg) presidency of the EU," he told a parliamentary committee.

Luxembourg holds the rotating EU presidency until mid-year when Britain takes over. The 25-member bloc is now drawing up a code of conduct on arms exports to guarantee greater transparency.

Straw argued the code of conduct would prove just as, if not more, effective in limiting the trading of weapons with China as well as with other countries.

France has led moves to scrap the embargo which could open up trade with the world's fastest-growing major economy.

"Our position is that, subject to satisfaction of the issues laid out by the EU, we will support a lifting of the arms embargo," said Straw.

He said he would aim to provide explanations and reassurances to Washington which adamantly opposes ending it.

US officials say they are not satisfied the mechanisms in the new code of conduct will provide sufficiently solid blocks on transfers.

US Undersecretary of State John Bolton, a hardliner on arms control, is meeting British officials this week to press the case for keeping the embargo.




Today's Top News
Top World News

Eight Chinese kidnapped in Iraq, rescue underway




Rice: US seeks candid, constructive China ties




Explorers conquer 'inaccessible pole'




Airlines give Taiwan flight details




US, EU must manage China differences: Straw




Regulator mulls steps to aid stock market