Rice: US seeks candid, constructive ties with China
(Agencies)
Updated: 2005-01-19 13:40
The United States is seeking a "candid, cooperative" relationship with China that builds on common interests but recognizes differences in values, Secretary of State-designate Condoleezza Rice.
In an opening statement at her US Senate confirmation hearings, Rice signaled that President George W. Bush's administration would work to tighten ties with China despite criticism of Beijing's human rights record.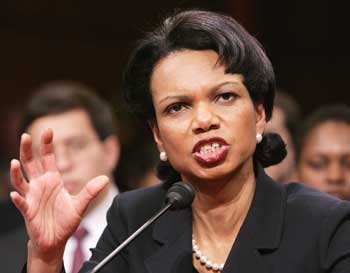 U.S. Secretary of State-designate Condoleezza Rice testifies before the U.S. Senate Foreign Relations Committee, during her confirmation hearing on Capitol Hill in Washington, January 18, 2005. Rice said the US will seek to develop candid, cooperative and constructive relationship with China. [Reuters]

"We are building a candid, cooperative and constructive relationship with China that embraces our common interests but still recognizes our considerable differences about values," Rice told the Senate Foreign Relations Committee.

Her prepared remarks reflected the delicate task facing Washington in dealing with the Asian giant the administration once considered a "strategic competitor" but now needs to help solve the North Korea nuclear issue.

Analysts said Bush would have to keep a wary eye on China as it expands its political and economic influence not only in Asia, but in Latin America, Africa and Europe.

But several thorny issues loom in Bush's second term, including trade, Taiwan and the potential lifting of Europe's 15-year arms embargo on China.

Still, Rice was optimistic, saying: "In Asia, we have moved beyond the false assumption that it is impossible to have good relations with all of Asia's powers."

Rice made clear the United States' hope of consolidating its influence in the region, following up on the goodwill generated by US military help and financial aid for victims of last month's tsunami disaster.

"Our Asian alliances have never been stronger, and we will use that strength to help secure the peace and prosperity of the region," she said, calling Japan, South Korea and Australia "key partners in our efforts to deter common threats and spur economic growth."

The outgoing national security adviser called for world unity in insisting that North Korea, as well as Iran, "abandon their nuclear weapons ambitions and choose instead the path of peace."

Rice hailed the peaceful, democratic transfer of power in two Asian Muslim countries, Malaysia and Indonesia, but vowed to work for reform in Myanmar and North Korea.

She said the United States was cooperating with India on a range of economic and security issues, while working with Pakistan "as a vital ally in the war on terror and a state in transition towards a more moderate and democratic future."




Today's Top News
Top China News

Rice: US seeks candid, constructive ties with China




Eight Chinese nationals kidnapped in Iraq




Explorers conquer 'inaccessible pole'




Airlines give Taiwan flight details




US, EU must manage China differences: Straw




Regulator mulls steps to aid stock market