Regulator plans steps to aid stock market
(Shenzhen Daily/Agencies)
Updated: 2005-01-19 10:28
China's securities regulator may take measures to ensure market stability, an official at the China Securities Regulatory Commission (CSRC) said, according to front-page reports in several major financial dailies Tuesday.
A persistent slump had driven companies to bank loans. The ratio of overall corporate fund-raising via markets had dived to 3 percent from a record high of 12 percent, Xie Geng, head of the market supervision department of the CSRC, was quoted as saying without elaborating.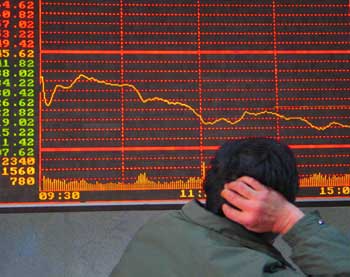 A stock buyer scratch his head as he see the Shanghai stock index plunges at a securities trading office in Shanghai January 17, 2005. The index dropped and closed at 1216.65 points. China's securities regulator says measures could be taken to aid the market. [newsphoto]

¡°We cannot rule out the possibility of launching some measures, in stages, to maintain the market's stability,¡± Xie was quoted as saying.

The reports follow a 2.3 percent drop in the Shanghai Composite Index on Monday to a near-six-year low of 1216.65.

Xie didn't elaborate on the possible measures. He said the measures would be aimed at mitigating risks in the market and boosting investor confidence, but the process would take time.

He also said the government's work on dealing with the non-tradable share issue was going smoothly, but it shouldn't be mixed up with the government¡¯s efforts to reduce its stock holdings.

The ultimate aim was to allow all shares to become tradable, ¡°but being allowed to be tradable is not equal to requiring they be tradable,¡± Xie said.

¡°A portion of the share rights, or in other words, a fairly large portion of the share rights won't enter the market.¡±

About two-thirds of the market capitalization of China's bourses comprise non-tradable shares held by the government, resulting in artificially high stock valuations.

When concerns arise among investors that the government could be about to float non-tradable shares, the stock markets tend to fall.

Xie said companies in certain industries might require the government or the parent conglomerate to keep a controlling stake.

Industry sources said the government was considering a task force to push policies and buoy the US$430 billion markets.

(Source: Shenzhen Daily/Agencies)






Today's Top News
Top China News

Rice: US seeks candid, constructive ties with China




Eight Chinese nationals kidnapped in Iraq




China mulls mail service to Antarctica




Airlines give Taiwan flight details




US, EU must manage China differences: Straw




Regulator plans steps to aid stock market