Palestinians to deploy forces to halt attacks
(Agencies)
Updated: 2005-01-19 09:48
Palestinian security forces will deploy to the Gaza Strip's borders with Israel within days to enforce President Mahmoud Abbas's order to halt militant attacks, their top commander said on Wednesday.
Abbas met both security chiefs and leaders of the Hamas militant group overnight in the shadow of a suicide bombing that underscored the difficulties he faces in persuading militants to halt violence in a 4-year-old uprising against Israel.
He is caught between the militants and Israeli demands for a stop to attacks as a condition for peace talks. Israel cut ties after a deadly assault at the border last week.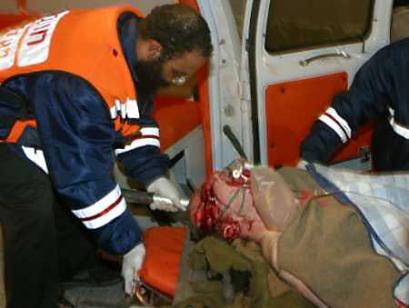 An Israeli man is carried from an ambulance at a hospital in the town of Beer Sheba January 18, 2005 after a Palestinian suicide bomber blew himself up near an Israeli army military base in Gush Katif. A Hamas suicide bomber blew himself up near Israeli troops in the Gaza Strip on Tuesday shortly after Palestinian Prime Minister Mahmoud Abbas arrived in the occupied territory to press militants to lay down their arms. [Reuters]

After meeting Abbas in Gaza, public security chief Major-General Abdel-Razek al-Majaydeh said an "arrangement is under way to deploy national security forces on the borders within two days to prevent violations."

Abbas ordered his security forces on Monday to prevent anti-Israeli violence.

In the latest attack, a suicide bomber from Hamas killed an agent of Israel's Shin Bet security service and wounded seven other Israelis in a blast at any army checkpoint near the Gush Katif bloc of Jewish settlements in Gaza.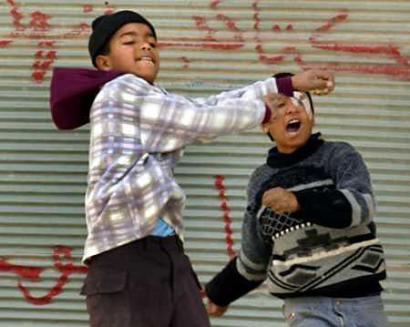 Palestinian boys hurl stones at an Israeli army vehicle during clashes in the Balata refugee camp near the West Bank City of Nablus January 17, 2005. Palestinian militants fired more rockets and mortars into Jewish settlements in Gaza on Tuesday, hours before new President Mahmoud Abbas was due in the area to urge a cease-fire he hopes could revive peacemaking with Israel. A dozen rounds caused no casualties settlers said. [Reuters]

Abbas met leaders of the Islamic group to try to persuade them to put down arms.

"Calm was one of the points raised in the meeting within the framework of stabilizing the Palestinian situation. We have listened to Abu Mazen (Abbas) and we will study the issue within the movement," said Sami Abu Zuhri, a Hamas spokesman in Gaza.

"Both sides expressed their mutual interest to achieve the interests of our people and maintain national unity," he said. "Further meetings are expected in coming days."

WEST BANK MILITANTS' PLEDGE

In the West Bank, a leader of al-Aqsa Martyrs Brigades, a militant group in Abbas's Fatah faction, pledged to halt attacks inside Israel but said it would continue to strike at Israelis in the occupied West Bank and Gaza.

"We agree to suspend all military action inside Israel ... in order to support Abbas's political program," said Zachariya Zubeidi, the most prominent West Bank leader in the brigades.

Keeping up pressure on Abbas, Israeli Prime Minister Ariel Sharon paid a rare visit to troops in the northern Gaza Strip on Tuesday. His office said he discussed how to stop rocket and mortar fire at Israel and Jewish settlements.

"Firing at civilian settlements is something that cannot continue and must be dealt with as soon as possible," Sharon told the soldiers, in remarks broadcast on Israel Radio.

Abbas has come under U.S. and Israeli pressure to make good on campaign pledges to control militants since his election last week to replace the late Yasser Arafat as president.

In Washington, Secretary of State-designate Condoleezza Rice promised to make a huge personal effort to exploit what she said was a moment of opportunity for Middle East peacemaking because of the change in Palestinian leadership.

"The new Palestinian leadership in word is devoted to fighting terror. It needs to be devoted in deed to fighting terror," she said, adding that President Bush's administration had pressed Palestinians to control militants.

Israel has threatened a broad military operation in Gaza to try to stop attacks but signaled Abbas would be given time to act before any offensive.




Today's Top News
Top World News

Eight Chinese kidnapped in Iraq, rescue underway




Explorers conquer 'inaccessible pole'




Airlines give Taiwan flight details




Green law suspends US$billion schemes




Bush kicks off three days of inaugural events




Teams sent to help tsunami reconstruction