U.N. lifts travel ban on aid workers
(Agencies)
Updated: 2005-01-19 09:31
The United Nations on Tuesday lifted a travel ban on aid workers in Indonesia's tsunami-battered Aceh province, the scene of a decades-long conflict between rebels and government forces that has raised concerns about the safety of relief efforts.
A magnitude 6.3 earthquake shook northern Japan late Tuesday, but there was no danger of a tsunami or reports of damage. Earlier in the day, an international conference on disaster reduction opened in Kobe, Japan.
Conference participants gathered to discuss a tsunami warning system for the Indian Ocean that might have saved thousands if it had been in place when the Dec. 26 disaster struck, killing more than 162,000 people in 11 nations.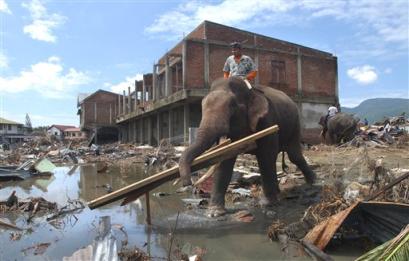 With the help of elephants, a team of salvagers retrieve useful pieces of timber from the destroyed areas of last month's massive tsunami Tuesday, Jan. 18, 2005 in Banda Aceh, Indonesia. Indonesia's Aceh province was hardest-hit by the Dec. 26 earthquake and tsunami that killed more than 162,000 in 11 countries in Asia and Africa. More than 115,200 of the dead were in Aceh, the northernmost province on Sumatra island. [AP]

As aid work picked up speed in worst-hit Aceh province, even Afghanistan joined the relief efforts, sending a 20-member team, including 12 military doctors, equipment, blankets and dried fruit.

"It's a symbolic gesture," Defense Minister Abdul Rahim Wardak said of his nation's first ever international relief mission. "We want to prove that once again we can be a useful member of the world community."

The United Nations imposed a 24-hour travel ban on its staff in parts of Aceh on Monday following reports that fighting had broken out between insurgents and the army.

U.N. security consultant Werner Van den Berg said the world body decided not to renew the ban after speaking with police in the coastal city of Lhoksaumawe about reported fighting there.

Col. Nachrowi Djazairi, a military spokesman in Banda Aceh, said he had received reports of a rebel attack, but had few details.

The Free Aceh Movement rebels, who have been fighting for autonomy since 1976, have dismissed government allegations they would attack relief convoys to steal food.

Other aid groups and foreign troops helping in the relief effort in Aceh said they were working as normal, and a U.S. military spokesman said American forces did not believe the security situation had changed in recent days.

"We're coordinating our force protection measures with the Indonesian government and taking appropriate security measures," Marine Capt. Joe Plenzler said. "We've been doing that since the start, it's nothing new."

In the village of Suak Beukah, where American and Indonesian troops unloaded rice and drinking water from a helicopter, a local leader said some people have contracted malaria.

"We have enough food now," said Marzuki, who goes by one name. "We need medicine."

Health experts fear malaria and another mosquito-borne disease, dengue fever, could kill 100,000 people in affected areas of southern Asia. Workers have been spraying insecticide as a preventative.

Capt. Matt Klunder said U.S. helicopters were flying about 80 daily missions to Aceh. He said the desperation of the first days after the disaster, when villagers often mobbed helicopters, had largely abated.

"Now there's a little more confidence because they know that on a somewhat regular basis we can get them foodstuffs and water," he said.

Several days of heavy rain in Aceh have flooded roads and left many refugee camps swamped with mud, complicating relief efforts and hindering the retrieval of corpses. Authorities have buried nearly 90,000 bodies so far.

The U.N. conference that opened Tuesday in Kobe, sought ways to avert the impact of nature's fury. The gathering, originally slated to widely cover natural disasters, has focused closely on tsunamis in the wake of last month's disaster.

"Rarely has a tragedy made a conference so topical and timely as this one," U.N. Secretary-General Kofi Annan told the World Conference on Disaster Reduction, which opened with a moment of silence.

The top task was to help lay the foundation for a tsunami early warning system for the Indian Ocean. Such a system already exists in the Pacific.

The U.N. Educational, Scientific and Cultural Organization has proposed a system that would cost $30 million and go into operation by mid-2006.




Today's Top News
Top World News

Eight Chinese kidnapped in Iraq, rescue underway




Explorers conquer 'inaccessible pole'




Airlines give Taiwan flight details




Green law suspends US$billion schemes




Bush kicks off three days of inaugural events




Teams sent to help tsunami reconstruction