Abbas proposes cease-fire talks in Gaza
(Agencies)
Updated: 2005-01-19 09:08
In the biggest test of his brief tenure, Palestinian leader Mahmoud Abbas came to the Gaza Strip on Tuesday, hoping to persuade militants to halt attacks on Israel.
But in a show of defiance, a Palestinian suicide bomber blew himself up on a settler road in Gaza, killing an Israeli security agent and wounding seven other Israelis.
The Islamic militant group Hamas claimed responsibility for the attack — the first suicide bombing against an Israeli target since Nov. 1.
Before the bombing, Israeli Prime Minister Ariel Sharon warned his patience was running thin, telling military commanders the army must deal with rocket and mortar attacks against Israelis "at the earliest possible stage."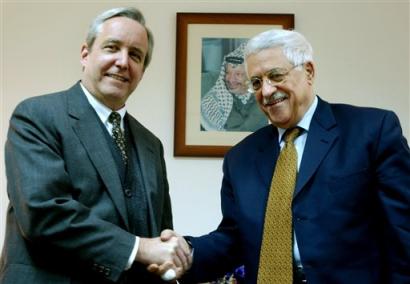 With a framed picture of late leader Yasser Arafat hanging on the wall, Palestinian Authority President Mahmoud Abbas, also known as Abu Mazen, right, shakes hands with the U.S. consul in Jerusalem David Pearce during their meeting in the West Bank city of Ramallah Tuesday Jan. 18, 2005. Abbas is heading to Gaza Strip on Tuesday for crucial cease-fire talks with militant leaders. [AP]

Sharon aide David Baker said Tuesday's bombing showed that "Palestinian terror is increasing." He said Israel has been restrained, but "no country in the world would allow its citizens to be bombed on a daily basis."

Israel has come under international pressure to hold off on any large-scale raid into Gaza to give Abbas, who took office Saturday, a chance to cobble together a cease-fire. The European Union and Jordan both urged Sharon to hold off on a raid.

Abbas traveled to Gaza on Tuesday evening and planned to remain for several days to try to work out a deal with the militants. Palestinian officials said he met late Tuesday with Islamic Jihad leaders in a secret location and then saw Hamas leaders.

Hamas spokesman Sami Abu Zukhri described the meeting as positive and said Hamas would consider Abbas' demand for a cease-fire.

Abbas got a boost from a violent West Bank group linked to his Fatah Party, the Al Aqsa Martyrs' Brigades. The group's leader, Zachariya Zubeidi, said his militants would stop attacks in Israel as a gesture to Abbas.

But there were no such signs in Gaza.

Just two hours after Abbas arrived, a Hamas militant blew himself up near an intersection where a main Palestinian road crosses an access road to a bloc of Jewish settlements, killing an Israeli agent from the Shin Bet security service and wounding seven Israelis — four soldiers and three other agents, the military said.

Tuesday's attack marked the first time a Shin Bet agent was killed in action since the start of the latest round of violence in September 2000, the agency said in a statement.

A Palestinian bystander was also injured, Palestinian rescue officials said.

Hamas claimed responsibility in an electronic message sent to The Associated Press, identifying the bomber as Omar Tabach, 21, of Gaza. The militant group dubbed the attack "Operation Stab in the Heart."

The agents stopped Tobach at the junction and took him into an inspection room where he detonated an explosive device hidden in his underwear, the Shin Bet statement said.

The most recent previous suicide bombing was Nov. 1, when a bomber killed three Israelis in a Tel Aviv market. An attack at a Gaza border crossing last week killed six Israelis.

Immediately after Tuesday's blast, Abbas called an emergency meeting of Gaza security officials, according to Palestinian officials. The attack underscores the difficulty Abbas will have in brokering a cease-fire with the militant groups, some of which have decentralized leaderships.

Militants continued to fire mortar shells and rockets in Gaza Tuesday, but no one was injured. The army returned fire, critically wounding a 15-year-old Palestinian boy, doctors said.

In the West Bank city of Nablus, meanwhile, about 40 Israeli army vehicles surrounded a hospital, the biggest raid there in weeks, residents said. The military said soldiers were moving against the "terrorist infrastructure."

Some militants have signaled a truce is possible if Israel stops arrest raids and targeted killings of wanted Palestinians. Israel is unwilling to agree to those conditions.

As part of his efforts to end the violence, Abbas instructed the Palestinian security forces on Monday to try to prevent attacks against Israel and to investigate last week's attack at the Gaza border crossing.

He also appealed Tuesday to Israel to "stop military attacks against the Palestinian people, stop incursions, the assassinations and the building of the wall (separation barrier), release prisoners and accept a mutual cease-fire."

Palestinian officials declined to say how Abbas' orders would be translated into action, but Foreign Minister Nabil Shaath said the Palestinians were serious about maintaining quiet.

"The Palestinian people will be the best policemen," he said. "Once an agreement is reached, it will be enforced."

Israel has demanded that, as a preliminary step, the Palestinians deploy security forces in the areas in northern Gaza used to launch the rockets, Israeli officials said Tuesday.

Abbas called for patience.

Meeting in the West Bank city of Ramallah, the Palestinian leader told David Pearce, the U.S. consul-general to Jerusalem, that he is serious about dealing with the militants, but needs time to reach an agreement, according to a top Palestinian official. The official said Abbas asked the Americans to pressure Israel to act with restraint.

Sharon suspended contact with Abbas after last week's attack at the border crossing and threatened a major raid into Gaza to stop the rocket attacks.

Sharon warned Abbas that Israel's patience is wearing thin. "Abu Mazen doesn't need a settling-in period. It's not as if he doesn't know what's happening in the field," Sharon said, referring to Abbas by his nickname.

Sharon met Tuesday with his army chief and other top commanders at the Erez crossing between Israel and Gaza.

"The situation as it is cannot continue ... we need to deal with this at the earliest possible stage," Sharon said. "The more time passes, and if we signal that Israel is willing to accept such things, the harder it will be to deal with this in the future."




Today's Top News
Top World News

China trying to rescue 8 hostages in Iraq




Explorers conquer 'inaccessible pole'




Airlines give Taiwan flight details




Green law suspends US$billion schemes




Bush kicks off three days of inaugural events




Teams sent to help tsunami reconstruction