Rice: U.S. was prepared for war in Iraq
(Agencies)
Updated: 2005-01-19 08:46
US Secretary of State nominee Condoleezza Rice gave no ground in Senate confirmation questioning Tuesday, insisting the United States was fully prepared for the Iraq war and its aftermath and refusing to give a timetable for U.S. troops to come home.
An American exit strategy depends on Iraq's ability to defend itself against terrorists after this month's elections, she said.
Rice seemed headed for easy confirmation by the Senate as President Bush's choice to be the country's top diplomat. She did have a tense exchange with Sen. Barbara Boxer, D-Calif. — Rice repeatedly asked the senator not to question her truthfulness — but former presidential nominee John Kerry, D-Mass., was the only member of the Foreign Relations Committee who told her she might not win his vote.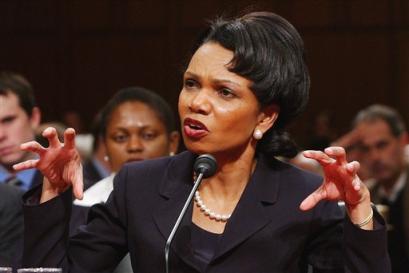 US National Security Advisor Condoleezza Rice testifies Tuesday, Jan. 18, 2005, on Capitol Hill during a Senate Foreign Relations Committee hearing on her nomination to replace Colin Powell in the top foreign policy post. [AP]

"This was never going to be easy," Rice said of the war and its aftermath during a confirmation hearing in which she painted an optimistic picture of the future in Iraq — and for resolution of the long conflict between Israel and the Palestinians as well.

"It was always going to have ups and downs. I'm sure that we have made many decisions, some of which were good, some of which might not have been good," but the ouster of Saddam Hussein was worth the price, Rice said. "I think we made the right decision to overthrow him."

Rice said the administration's actions after the Sept. 11, 2001, terror attacks — including the wars in Afghanistan and Iraq — were "difficult and necessary and right."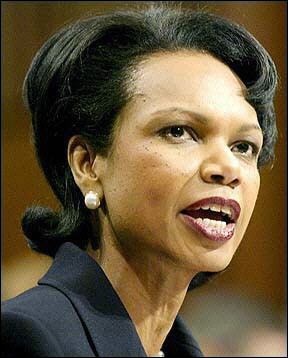 US Secretary of State nominee Condoleezza Rice speaks after being sworn in before the US Senate Foreign Relations Committee hearing during her nomination hearing on Capitol Hill in Washington, DC. [AFP]

Asked whether, with hindsight, the United States should have committed more troops to Iraq, Rice said that despite "some unforeseen circumstances" she was satisfied with the numbers.

As for U.S. troops leaving, she said in response to forceful questioning from Republican Sen. Chuck Hagel of Nebraska, "Our role is directly proportional ... to how capable the Iraqis are."

"I am really reluctant to try to put a timetable on that, because I think the goal is to get the mission accomplished and that means that the Iraqis have to be capable of some things before we lessen our own responsibility," she said.

She pledged to work to improve ties with some allies frayed by U.S. policy.

A committee vote is expected Wednesday, and the full Senate could act later in the week.

If confirmed Rice, 50, would be the first black woman to lead the State Department. She would replace the popular Colin Powell as America's most visible face abroad. As White House national security adviser for the past four years, Rice was Bush's most trusted foreign affairs adviser and a main architect of policies in Iraq, Europe and elsewhere.

She said of the Iraq invasion almost two years ago, "We did meet with some unforeseen circumstances, most importantly as we swept through the country really rather rapidly."

Rice said spreading democracy through the Middle East remains a top administration objective. The Palestinian election earlier this month following the death of Yasser Arafat offers "a moment of opportunity," she said.

But she also said Palestinian leaders need to do more to end terrorism against Israel.

As for naming a new presidential envoy to help shepherd the peace process, Rice said "no one has objections in principle," but there is a question as to whether it is appropriate at this time.

More broadly, she said there remain "outposts of tyranny" in the world that require close attention, citing North Korea, Iran, Cuba, Belarus, Zimbabwe and Myanmar, also known as Burma.

"We must remain united in insisting that Iran and North Korea abandon their nuclear weapons ambitions and choose instead the path of peace," she said.

Rice also pledged to embrace public diplomacy, the face-to-face struggle to win support for U.S. policies and ideals abroad.

"The time for diplomacy is now," she said in a remark that appeared aimed at critics who accuse the administration of go-it-alone tactics.

That brought a sharp retort from the panel's senior Democrat, Sen. Joseph Biden of Delaware: "The time for diplomacy is long overdue."

Rice answered the day's harshest questioning, from Sen. Boxer, with a rare note of strain in her voice. Boxer came close to accusing Rice of having lied in her public statements about the run-up to war in Iraq.

"Your loyalty to your mission you were given overwhelmed your respect for the truth, and I don't say it lightly," Boxer said.

"I have never, ever lost respect for the truth in service of anything," Rice replied coolly. "It is not my nature, it is not my character. And I would hope that we can have this conversation ... without impugning my credibility or my integrity."

Rice had another testy exchange with Sen. Christopher Dodd, D-Conn., over the administration's initial policy on treatment of terrorism detainees and the definition of torture. Rice would not say whether she thinks certain practices, such as dunking restrained prisoners underwater, constituted torture.

"I'm not going to give views on specific interrogation techniques," Rice said.

A visibly frustrated Dodd told her he was disappointed, and suggested that Rice ask a former prisoner of war in Vietnam, Sen. John McCain, R-Ariz., about torture and the risk to American troops if the U.S. government gives "waffling answers" about it.

Rice grew up in segregated Birmingham, Ala., the granddaughter of a poor cotton farmer.

"I am especially indebted to those who fought and sacrificed in the civil rights movement so that I could be here today," she said.

Under questioning, Rice also:

- Said the administration was paying close attention "to the progress or lack of thereof of democracy" in Russia under President Vladimir Putin. Bush meets with Putin on a trip to Europe next month.

- Said that the Dec. 26 Asian tsunami presented a "wonderful opportunity" for the United States to reach out to countries in the Muslim world and build good will, a remark that Boxer branded as insensitive to the widespread deaths and destruction.




Today's Top News
Top World News

Eight Chinese kidnapped in Iraq, rescue underway




Explorers conquer 'inaccessible pole'




Airlines give Taiwan flight details




Green law suspends US$billion schemes




Bush kicks off three days of inaugural events




Teams sent to help tsunami reconstruction