Bush kicks off three days of inaugural events
(Agencies)
Updated: 2005-01-19 05:03
US President Bush on Tuesday kicked off three days of celebrations marking his second-term inauguration by saluting America's war veterans and working on a speech with the themes of advancing freedom abroad and "ownership society" at home.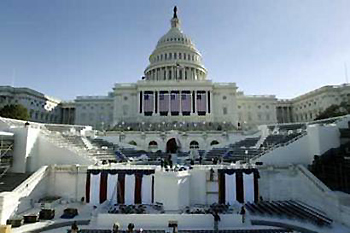 Workers finish preparations for President George W. Bush's inauguration outside the Capitol Building, in Washington, January 18, 2005. [Reuters]

Bush is to be sworn in for another four-year term at midday on Thursday and thousands of Republicans were flocking to the U.S. capital for the celebrations under extremely heavy security.

The inaugural events, with a $40 million price tag paid for largely by donors, are taking place against a backdrop of ongoing bloodshed in Iraq and with polls showing Bush begins his second term without a clear mandate to lead the country.

A Washington Post/ABC News poll said 45 percent of those surveyed would prefer the country go in the direction Bush wanted to lead it, while 39 percent said Democrats should lead the way.

Democrats in the minority in both houses of the U.S. Congress have signaled they will fight many of Bush's core proposals such as changing Social Security.

While he had pledged to be a "uniter, not a divider," Democrats criticized him in his first term for pushing policies favored by conservatives.

"The president will be talking this week in his inaugural address about the big challenges we face, and the opportunities that those challenges present for us to really work together to achieve big things for the world and for this nation," said White House spokesman Scott McClellan.

After Bush puts his hand on the Bible and repeats the oath of office given by Supreme Court Chief Justice William Rehnquist, he will deliver an inaugural address estimated to last 17 minutes.

It will touch on broad themes of advancing freedom abroad and promoting an "ownership society" that emphasizes personal freedoms at home, such as his controversial plan to let younger workers invest a portion of their income into private retirement accounts as a way to overhaul the Social Security system.

Bush's first stop of the day was to a private reception for members of the Republican National Committee. Then he was to attend a "Saluting Those Who Serve" event to honor the men and women of the U.S. military, highlighting each service branch.

There was also to be live satellite feeds to troops in Afghanistan and Iraq, and soldiers from Walter Reed Army Medical Center wounded in either country in attendance.

Later in the day, Bush was to attend a youth concert with a theme of emphasizing the importance of volunteerism and encouraging young people to participate in community service.




Today's Top News
Top World News

Eight Chinese kidnapped in Iraq, rescue underway




Explorers conquer 'inaccessible pole'




Airlines give Taiwan flight details




Green law suspends US$billion schemes




Bush kicks off three days of inaugural events




Teams sent to help tsunami reconstruction