Airlines give Taiwan flight details
By Chen Qide, Cao Desheng (China Daily)
Updated: 2005-01-19 02:49
Shanghai Airlines is expected to be the first to fly non-stop charter flights across the Taiwan Straits out of six mainland airlines.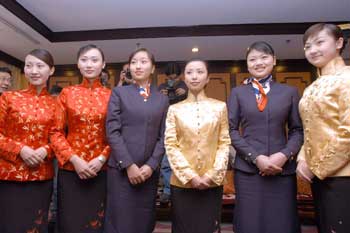 Stewardnesses from China Eastern airlines show the new uniforms designed specially for the across-Strait direct flights in Shanghai January 17, 2005. [newsphoto]

The first flight will take off from Shanghai for Taipei on January 29, Fan Hongxi, president of the airline, said yesterday.

"We have sent the proposed take-off time, which is set at 8:45 am, to the General Administration of Civil Aviation of China (CAAC) for approval," Fan said.

Other airlines to operate flights from Beijing and Guangzhou to Taiwan will fly later the same day. The final decision is expected to be made today.

"But we believe there should be no big problem about it," he said.

CAAC unveiled a list of six domestic airlines for charter flights across the Straits during the coming Lunar New Year holiday yesterday.

They are Air China, China Southern Airlines, China Eastern Airlines, Shanghai Airlines, Hainan Airlines, and Xiamen Airlines, the civil aviation watchdog said.

The airlines will operate 24 flights between Beijing, Shanghai, Guangzhou and Taiwan's two biggest cities, Taipei and Kaohsiung, from January 29 to February 20.

Ten flights will be operated by Shanghai Airlines and China Eastern Airlines, with the former having four.

Six flights operated by Air China and Hainan Airlines are expected to take off from Beijing. Another eight China Southern and Xiamen Airlines flights will take off from Guangzhou, the capital of the South China's Guangdong Province.

Shanghai Airlines will have flights on January 29, February 5, 7 and 17. China Eastern's schedule is not yet available.

Local aviation insiders said if there were not enough passengers in Beijing and Guangzhou, the airlines based in Shanghai might be given more flights.

One source from the Shanghai office of China Airlines said there are about 600,000 Taiwan compatriots living in Shanghai and neighbouring provinces, providing a huge market fore non-stop cross-Straits flights.

Shanghai Airlines will use 260-seat Boeing 767 and 175-seat Boeing 757 aircraft on its route from Shanghai to Taipei and Kaohsiung via Hong Kong, but they will not touch down.

"We have opened 11 ticket-sales outlets in Shanghai and four in Wujiang, Kunshan, Taicang and Suzhou in Jiangsu Province," Fan said.

Anyone with tickets for indirect flights bound for Taipei or Kaohsiung, which should stop at Macao, can exchange them for non-stop charter flights, he said.

A special counter will be set up at Pudong airport in Shanghai for passengers going to Taiwan to check in.

High qualified pilots and stewardesses, including a vice president of the airlines, will be arranged to fly flights, Fan said.

Taiwan-flavoured food will be available on flight for passengers.

Fan said Shanghai Airlines will provide ground services for Far East Air Transport Corp, Trans Asia Airways and EVA Airways, and vice versa.




Today's Top News
Top China News

Embassy confirms 8 Chinese kidnapped in Iraq




Explorers conquer 'inaccessible pole'




China, Ireland ink four co-operative pacts




Airlines give Taiwan flight details




Teams sent to help tsunami reconstruction




Green law suspends US$billion schemes