Nation sees more wood for better use of trees
By Liang Chao (China Daily)
Updated: 2005-01-19 02:20
China has finally managed to satisfy its demand for timber as years of tree-planting and commercial logging bans have paid off.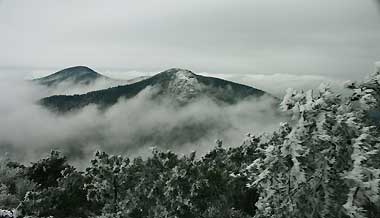 A file photo shows forest in East China's Zhejiang Province covered with snow on December 24, 2004. [newsphoto]

"It's out of the question for the country to satisfy its domestic demands by increasing tree felling from neighbouring countries," said Xiao Xingwei, head of the department of forest resources management under the State Forestry Administration (SFA).

"Although China does still import timber from other countries, this is only a small proportion of its total consumption," he said at a press conference organized by the State Council Information Office.

China's total timber consumption in 2003 reached a record 228.43 million cubic metres and the combined supply of imported and domestic-grown wood stood at 224.13 million cubic metres, he said, quoting the latest SFA inventory of the nation's forestry resources in the 1999-2003 period.

By 2003, China imported 25.46 million cubic metres of timber and exported 21.52 million cubic metres of wood products, according to the survey, which was released yesterday.

Deputy Director of the SFA Lei Jiafu said China's demand and supply of timber was pretty well balanced for the year.

He said that in the following few years, China would be able to maintain the balance with a considerable reserved area of plantations made available for use.

The survey, the sixth national one of its kind by the SFA, China's forest coverage has reached 18.21 per cent and 175 million hectares of its territory.

There are 12.456 billion cubic metres, including 1.585 billion cubic metres of forests available for chopping down and 5.671 billion cubic metres of premature trees with potential quality timber available for the foreseeable future.

Lei was confident China will be able to meet its own demands for timber with its existing reserves of commercial forests, including fast-growing and planted trees.

"By 2010, such reserves will provide nearly 3 billion cubic metres of timber, which is enough to meet the country's future demand," he said.

China's forested area increased by 15.968 million hectares, or 889 million cubic metres in accumulation, or net increase of stock, in the 1999-2003 period, with the forest coverage rate growing by 1.66 percentage points to reach the current 18.21 per cent from the former 16.55 per cent, according to the survey.

Involving more than 20,000 scientists and forestry workers, the survey adopted satellite monitoring technology to complete site surveys to investigate China's forest acreage, accumulation, make-up, distribution, growth and consumption and assess the forests' influence on the environment.

The current figures have not included the acreage of newly- planted trees.

China has, since 1998, launched six key projects to expand forest coverage and rehabilitate forestry resources, including enlarging the protection of natural forests and returning farmland to forest or grassland.

"Years later, the SFA also launched a number of strategic, high-yield forestry production bases to ease the bottleneck between timber supply and demand," said Lei. "Our efforts have started to pay off today."

The Chinese Government has always been firm in cracking down on the illegal trade of timber and has improved its co-operation with neighbouring and other lumber exporting countries by signing pacts on the protection and rational exploitation of forest resources, as well as the fight against illegal logging and timber trading.

"Accordingly, Chinese businesses have strictly observed local laws and regulations in their exploitation of forest resources from overseas," said Xiao.




Today's Top News
Top China News

Eight Chinese kidnapped in Iraq, rescue underway




Explorers conquer 'inaccessible pole'




Airlines give Taiwan flight details




Regulator mulls steps to aid stock market




Green law suspends US$billion schemes




Bush kicks off three days of inaugural events