China and Ireland have agreed to strengthen co-operation in information technology, software, agriculture, culture, education and tourism.

"Enjoying great co-operative potential in economic and social development between the two sides, China will work with Ireland to push forward bilateral relations," Premier Wen Jiabao told visiting Prime Minister of Ireland Bertie Ahern Tuesday.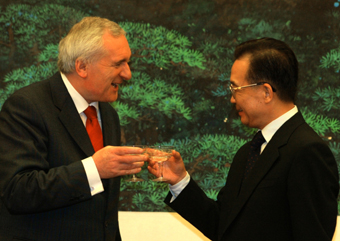 Wen Jiabao toasts visiting Irish Prime Minister Bertie Ahern after the two sides signed four agreements Tuesday in Beijing. This is the second time Ahern has visited China since he was elected Prime Minister. He arrived in Beijing on Monday for a six-day official visit. [newsphoto]


After their meeting, the two leaders witnessed the signing of four bilateral co-operation agreements.

As well as maintaining the momentum of high-level visits, the two sides should also strengthen exchanges between governments, parliaments and people-to-people contacts, Wen said.

The two sides could enlarge co-operation in information technology, software, biological technology, agriculture and husbandry.

Co-operation in education, culture, sanitation and tourism could also be deepened, he suggested.

It was also mooted that the two nations foster high-level personnel through joint efforts as well to expand exchanges of teaching resources in higher education, Wen said.

Wen also expressed his appreciation for Ireland's sticking to the one-China policy.

Echoing Wen's opinion, Ahern said his current trip to China is aimed at making the component of Ireland's "Asian Strategy" in a new period.

The two sides share vast spaces of co-operation in investment, IT, agriculture, culture, education and tourism, said Ahern, adding that the two nations should enhance co-operation in these fields.

In 1998, Ahern made a first State visit to China, during which he established the "Asian Strategy" with China at the core.

At the invitation of Wen, Ahern is visiting Beijing, Shanghai and Hong Kong during his three-leg stay from January 17 to 22.

Speech at Tsinghua

Ahern Tuesday delivered a speech at Tsinghua University in Beijing, calling for increasing contacts between Irish and Chinese universities.

Educational exchanges between the two countries play an important role in promoting bilateral relations, Ahern said.

"I see my current visit as a platform for a further boost to the political, human, educational, cultural, trade and commercial relations between our two countries," he said.

Food, drink seminar

The ballroom at the Great Wall Sheraton Hotel in Beijing Tuesday was filled with faces representing a range of food and drink companies from Ireland who are extremely anxious to do business with their Chinese counterparts.

Ahern commenced the formalities of his official visit to China with an address at the opening of a seminar on Irish food and drinks.

He said the two countries were set to sign a protocol agreement to regulate pork exports to China today.

"This marks a watershed in the active initiation of trade in meat products," he said. "I hope that we can take this step further in the future in relation to Irish beef."

Minister for Agriculture and Food of Ireland Mary Coughlan said the food and drink sectors would lay the basis for increased trade between the two countries since China is a huge market with enormous potential.

Aidan Cotter, chief executive of Irish Food Board, said 30 business people from 20 companies had participated in the seminar in a bid to seek huge business opportunities.

"A week of building contacts and making deals will help business people of Ireland to understand the Chinese Market," he said.

He said that led by the Prime Minister, Ireland has sent out its biggest foreign trade mission to China including 300 Irish business people from 120 companies.




Today's Top News
Top China News

Embassy confirms 8 Chinese kidnapped in Iraq




Explorers conquer 'inaccessible pole'




China: Island dispute should be solved via talks




PetroChina reports record oil production




Taiwanese applaud charter flight pact




32 Chinese stowaways found in LA container