Oil prices climb to a seven-week high
(Agencies)
Updated: 2005-01-18 13:29
Oil prices climbed to a seven-week high above $49 a barrel on Tuesday as a cold front swept into the U.S. Northeast, stoking winter fuel demand.
U.S. oil futures jumped 77 cents to $49.15 a barrel in healthy electronic activity, briefly touching their highest level since Nov. 30 as the New York Mercantile Exchange resumed trade after Monday's holiday. Oil gained 6.5 percent last week.
London's Brent crude surged 71 cents to $45.74 a barrel, building on Monday's 7-cent gain.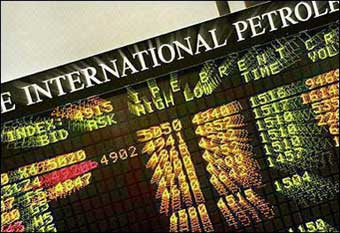 Trading board at London's International Petroleum Exchange. Oil prices held steady in trading, supported by widespread disruptions to supplies amid cold weather in the United States and a possible output cut by OPEC later this month, analysts said. [AFP/file]

Although global oil production problems have eased this week, concerns about low winter fuel inventories have risen as colder-than-usual conditions in the Midwest of the United States move into the Northeast, the biggest heating oil market in the world.

"It seems pretty clear that the weather continues to get colder," said ABN AMRO broker John Brady in New York, adding that the market would have to work hard to break above technical and psychological resistance in the region of $49.77 to $50.00 a barrel.

Temperatures are expected to be as much as 15-20 Fahrenheit (8-10C) below normal this week, forecasters Meteorlogix said on Monday, amid one of the most severe and sustained cold spells of a thus far unusually warm winter for the Northeast.

This will boost household demand for heating oil, testing inventories that are 7 percent below year-ago levels.

New York heating oil futures were up 3.41 cents at $1.3850 a gallon on Tuesday, their highest level in almost four weeks as the contract extended this year's rally to more than 12 percent.

Natural gas has also jumped 9 percent in two weeks as colder weather in the U.S. Midwest, where gas is the dominant winter fuel, spurs demand. Prices were up 5 percent at $6.705 per million British thermal units on Tuesday.

OPEC JAWBONES

The Organization of the Petroleum Exporting Countries (OPEC) meets Jan. 30 to discuss whether it may need additional supply cuts ahead of the second quarter, when demand ebbs.

Algerian Energy Minister Chakib Khelil said on Monday OPEC would need to defend prices if it saw a sharp drop in demand, but top producer Saudi Arabia was thought unlikely to support any more cuts with oil prices near $50 a barrel.

Some OPEC members have said the cartel might deepen the 1 million-bpd cuts that came into effect on Jan. 1 if it saw prices drop below $40 a barrel, but there had been little talk of restraining prices amid the $7 rally over the last two weeks.

"OPEC seems to do a much better job of talking the market higher than trying to stabilize it or knock it down, and a lot of that talk about $40 was very supportive," said Brady of ABN AMRO.

Supplies in the North Sea and Nigeria were flowing more smoothly this week after more than month-long disruptions, with two-thirds of Norway's 345,000 bpd outage coming back online and Royal Dutch/Shell restoring three-quarters of the 100,000 bpd it had to shut in due to community unrest in early December.

But Iraq remains a constant source of worry as violence persists in the run-up to the Jan. 30 elections, which traders fear may spawn more sabotage attacks against oil facilities of the sort that have shut down northern exports for a month.




Today's Top News
Top World News

Britain, China unite in hi-tech research




PetroChina reports record production




Taiwanese applaud charter flight pact




Plan intends to make life better for Beijingers




32 Chinese stowaways found in LA container




Bush set to unveil second-term agenda