32 Chinese stowaways found in LA container
(Agencies)
Updated: 2005-01-18 09:43
Thirty-two Chinese stowaways were found in two cargo containers in Los Angeles after surviving a nearly two-week ocean journey from Hong Kong, officials said.
The 32 would-be illegal immigrants were taken into custody on Saturday after a crane operator in Los Angeles port spotted three men climbing out of a hole cut in the side of a container, police said.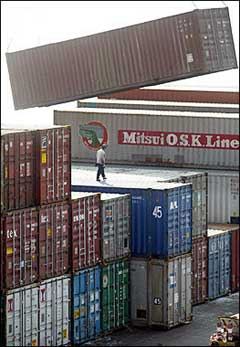 32 Chinese stowaways found in container in Los Angeles. [AFP]

The containers with the men inside were loaded onto the ship two weeks ago in Shekou, China, police said. The men were in good health, officials said.

The stowaways, all men, had equipped the containers with supplies and ventilation to allow them to survive the perilous journey across the Pacific Ocean, said Los Angeles Port Police Lieutenant Titus Smith said.

"They had ventilation holes cut into the bottom of the container. They had a fan system set up that ran on batteries, they had ample food and water, juices, sleeping bags," he said.

The group of 28 adults and four teenagers lived inside two 40-foot long shipping containers, according to the Department of Homeland Security.

The men were aboard the ship NYK Athena, but police said that it did not appear that the vessel's crew was aware of their illegal passengers, Smith added.

US Immigration and Customs Enforcement officials are investigating the stowaways pending a decision on their fate and will work with Chinese authorities to repatriate them.

One of the stowaways claimed to have paid US$3,000 for his passage to the United States, but investigators say smuggling fees for migrants from China typically range from US$30,000 to US$60,000, according to immigration agents.

Illegal immigrants have long risked their lives by stowing away on ships in a bid to enter the United States.

The incident came almost a year after 19 smuggled Chinese migrants were found inside a container aboard a Cypriot-flagged vessel, the Ningbo, in February last year, the US Department of Homeland Security said.

Four men, including two members of Hong Kong's organised crime syndicates, or "snakeheads," were charged in connection with that incident.




Today's Top News
Top China News

Britain, China unite in hi-tech research




PetroChina reports record production




Taiwanese applaud charter flight pact




Plan intends to make life better for Beijingers




32 Chinese stowaways found in LA container




Target: Cut workplace fatalities