PetroChina reports record oil production
By Xie Ye (China Daily)
Updated: 2005-01-18 09:11
PetroChina, the country's largest oil and gas producer, reported record oil and gas production last year, boosted by the country's voracious appetite for energy, the company said yesterday.
PetroChina said oil and gas production rose 3.1 per cent year-on-year to 917.9 million barrels of oil equivalent (BOE), with gas production mainly responsible for the rise.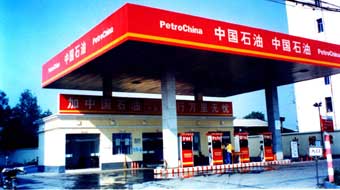 A gas station operated by PetroChina is ready for service in Beijing in this September 18, 2004 file photo. PetroChina said oil and gas production rose 3.1 per cent year-on-year to 917.9 million barrels of oil equivalent (BOE), with gas production mainly responsible for the rise. [newsphoto]

The company's oil output inched up 0.4 per cent to 777.9 million barrels last year.

Whereas gas production jumped 21.4 per cent to 839.4 billion cubic feet as the company promoted gas production and usage.

The company sold oil at US$33.9 a barrel against US$27.2 a barrel in 2003, driven by the spike in international oil prices.

The realized gas price rose to US$2 per 1,000 cubic feet, compared to US$1.95 in 2003.

According to Reuters, PetroChina may post a net profit growth of nearly 40 per cent to 96.69 billion yuan (US$11.7 billion) when its releases its 2004 financial results in March or April.

The company posted a record first-half-year profit of 45.3 billion yuan (US$5.5 billion) in 2004, representing a year-on-year increase of 17.3 per cent.

"PetroChina took advantage of high oil prices and robust market demand in 2004... All operational indicators broke the records," said a statement from PetroChina.

The company has been struggling in recent years to maintain oil production after waning output from its decades-old oilfields.

The Daqing field, which accounts for 44 per cent of the company's oil output, produced 46.4 million tons of oil, or 342.8 million barrels, last year.

But this was a marked decrease on pre-2003 levels when the field pumped 50 million tons-plus annually for more than two decades.

Still, the company said it is making progress in oil and gas exploration.

It performed better-than-expected in increasing oil and gas reserves in a number of basins including Tarim Basin, which is believed will become the company's major growth area, the statement said.

To offset declining oil production, PetroChina has been working hard to boost its gas business.

The company began the commercial operation of the US$5.2 billion west-east natural gas pipeline at the end of last year.

PetroChina said last month the project is expected to generate a profit this year with increasing gas demand.

By 2007, gas consumption is expected to reach the pipeline's capacity of 12 billion cubic metres, a year ahead of original estimates, the company said.

Meanwhile, the firm is constructing a number of other gas pipelines, including 760-kilometre-long Zhongxian-Wuhan pipeline in Central China and the 900-kilometre-long Shaanxi-Beijing gas pipeline in the north.

On the back of the country's strong demand for oil, PetroChina, for the first time, refined more crude oil than it produced, the statement said.

The company's crude run increased 12.3 per cent to 697.3 million barrels in 2004, which can be explained by increasing imports.

Its gasoline output rose 9.8 per cent to 20 million tons and diesel increased 16.5 per cent to 38.2 million tons.

The number of petrol stations increased by 14.2 per cent over 2003 to 17,403, the company said.




Today's Top News
Top China News

Insurgent says 8 Chinese held in Iraq




PetroChina reports record oil production




Inquiry says Taiwan's Chen faked shooting




Taiwanese applaud charter flight pact




32 Chinese stowaways found in LA container




Plan intends to make life better for Beijingers