Iraqi exiles register to vote overseas
(Agencies)
Updated: 2005-01-18 08:58
Exiled Iraqis began registering to vote Monday in their homeland's first independent election in nearly 50 years, with dozens arriving at polling stations in 14 countries from Australia to Britain to the United States ! and many expressing confusion at the process.
At a London registration center near Wembley Stadium, Saieb Jabbar, who left Baghdad in 1980, registered with his 23-year-old son, Ahmed, who made his only visit to Iraq recently. Both were eager to vote.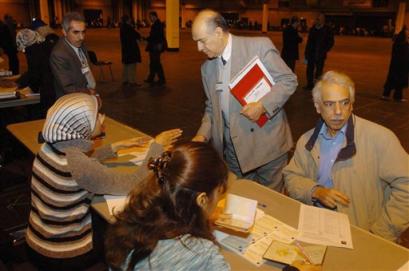 Iraqi election officials, seated at left and standing, at a registration desk for the Iraq expatriates at Wembley Conference Centre in north-west London, Monday, Jan. 17, 2005. Iraqi expatriates can register at the center to vote in the forthcoming election in Iraq for an Assembly that will draft a constitution and choose a president. Eligible Iraqis abroad, estimated to number 1.2 million, can vote in 14 countries: Britain, Australia, Sweden, Canada, Denmark, France, Germany, Iran, Jordan, the Netherlands, Syria, Turkey, United Arab Emirates and the United States. The man seated at right is registering. [AP]

"We lived in a dictatorship a long time, and it's the first time in my life, in my 48 years, that I can vote in Iraq," Saieb Jabbar said. "I feel very happy."

In Britain, many of the estimated 150,000 eligible Iraqis were confused about the political process and unsure whom to vote for.

"People keep calling us and asking us, 'Who should we vote for?'" said Jabbar Hasan of the Iraqi Community Association in London. "We say it is up to you. You decide. It is a new experience, even for the political parties."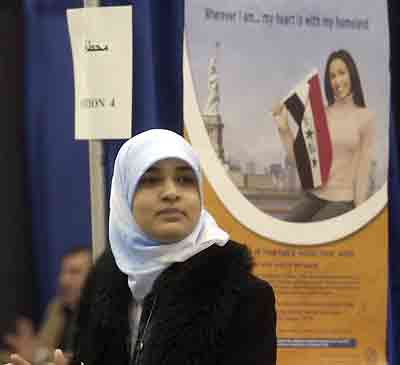 19-year-old Iraqi-born poll worker Manal Al-Mosawi waits to assist Iraqi expatriates as they registered to vote in the upcoming national elections, at a polling station set up in Southgate, Michigan January 17, 2005. Iraqis living outside the country can vote in the election if they are over 18 years old and were born in Iraq, or if their father was born in Iraq. [Reuters]

Hasan, who fled Baghdad 28 years ago, also said some voters complained about the travel costs. Britain set up three polling centers ! in Glasgow, Manchester and London ! which meant voters had to travel long distances several times, first to register and then to cast their ballots.

Eligible Iraqis abroad ! estimated to number 1.2 million ! can vote in Britain, Australia, Sweden, Canada, Denmark, France, Germany, Iran, Jordan, the Netherlands, Syria, Turkey, United Arab Emirates and the United States.

Voting will be held in six cities in Iran, five in the United States, four in Germany, and three in the Netherlands and Canada.

The seven-day registration period ends Jan. 23. Voting will begin Jan. 28 and continue until the Jan. 30 election in Iraq for an assembly that will draft a constitution and choose a president.

The walls of the registration center in Berlin were plastered with posters showing a Muslim woman in front of the Brandenburg Gate holding the Iraqi flag with a German slogan saying, "It's the same wherever I am ! my heart is in the homeland."

Hussein Al-Nasravi, an engineer, said he made sure to register on the first day because he believes free elections are the only hope for his country.

"The future of the world is democracy," he said in German. "The situation for this vote is not optimal, that is clear, but for the future it is a good beginning."

But in Damascus, Syria, registrar Musab al-Rifai said he believed many of his countrymen would not register "because they are unconvinced that their vote would change anything."

Low turnout was recorded at registration centers across Syria, Jordan and the United Arab Emirates on Monday, the first of a seven-day registration period. The centers are supervised by the International Organization for Migration, a Geneva-based non-governmental organization.

Deposed Iraqi President Saddam Hussein held referendums, and claimed to have won the last one in 2002 with 100 percent of the vote. So for many Iraqis, the chance to vote in a free election was a thrill.

In the United States, Iraqi expatriates have begun registering in Washington, Chicago, Detroit, Los Angeles and Nashville, Tenn.

"This is an historic event taking place on American soil," said Basim Ridha Alhussaini, an Iraqi expatriate responsible for training some 320 poll workers in Southern California. "This has never happened before."

The Detroit area has the greatest population of Iraqi immigrants in the United States, with an estimated 80,000 Iraqi exiles living throughout Michigan.

"This is a great moment for me and for the people of Iraq," said Abdulrasul al-Hayder, 48, as he registered in this Detroit suburb of Southgate. "This is the moment when Iraqis will put their stamp on the democracy. We've been waiting so many years."

In Australia, the registrants included the country's main Shiite cleric, Ayatollah Sheik Mohammad Hussein al-Ansari ! the local representative of Iraq's Grand Ayatollah Ali al-Sistani.

Speaking through a translator, al-Ansari said he hoped the election would be a "gateway for peace" in the region.

"A peaceful future for Iraq is a peaceful future for all the world because, as we now know, all the world is affected by (what is happening) in the Middle East, especially Iraq," he said. "And we hope that this will be a gateway for all of us to live in peace."




Today's Top News
Top World News

Britain, China unite in hi-tech research




PetroChina reports record production




Taiwanese applaud charter flight pact




Plan intends to make life better for Beijingers




Suspicious dads prompt paternity test trend




Target: Cut workplace fatalities