Annan plans shake-up of management team shortly
(Agencies)
Updated: 2005-01-18 08:52
U.N. Secretary-General Kofi Annan said on Monday that resignations of several senior officials gave him a chance to reshuffle his team, under fire in Washington because of the Iraqi oil-for-food scandal.
U.N. officials said Annan was expected to announce in a month or so more personnel changes as well as further staff directives on management responsibility, sexual harassment and whistle-blowers.
"Some people were leaving and it offered an opportunity to rethink and remake the team," Annan told reporters. "Several people were going to leave anyway and that opportunity was offered so I decided to take a look at the whole team."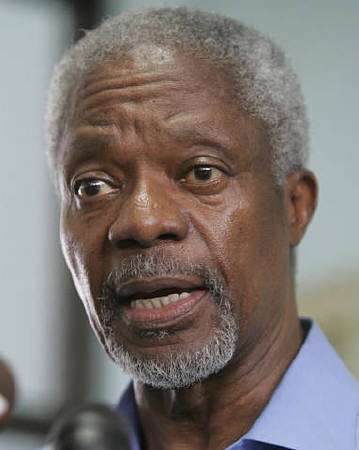 U.N. Secretary-General Kofi Annan answers a question during a news conference in Banda Aceh, Indonesia in this January 7, 2005 file photo. Annan said on Monday the resignations of several senior officials gave him the chance to restructure his management team, under fire in the U.S. because of the Iraqi oil-for-food scandal. [Reuters/file]

Many changes are expected after Paul Volcker, the former chairman of the U.S. Federal Reserve, gives a preliminary report at the end of the month on alleged U.N. mismanagement of the $64 billion oil-for-food program for Iraq. He has already criticized the lack of follow up on internal audit reports.

"I saw Mr. Volcker's comments on the audit reports, which indicate that we have work to do in the management area and we need clearer transparency," Annan said. "I will be making some proposals and taking some action very shortly."

John Ruggie, a former U.N. assistant secretary-general and now a professor of international relations at Harvard University, said the difficulty the world body had in responding to the oil-for-food charges made Annan realize that different kind of skills were necessary in key positions.

Within the United Nations, Ruggie said there had long been a division over accountability with some people believing it was limited to member governments.

"But others realize that in this day and age there is a bigger public there to whom you are accountable," he told Reuters.

Annan's first major change was choosing Briton Mark Malloch Brown, the high-profile head of the U.N. Development Program, as his chief of staff after the retirement this month of Iqbal Riza, 70, of Pakistan.

Malloch Brown is expected to help push through reforms on management accountability and respond quickly to criticism of the world body, especially on the oil-for-food program.

In the Middle East, Peter Hanson, the head of the UNRWA, the large U.N. Relief and Works Agency that administers Palestinian refugee camps, will leave his post, Annan said, and Terje Roed-Larsen, the coordinator of the peace process, has already resigned.

Catherine Bertini, the American undersecretary-general for management, said she would resign in the spring. And Kieran Prendergast, the British undersecretary-general for political affairs, often considered the backbone of U.N. senior staff, is expected to be given another post.




Today's Top News
Top World News

UK, China unite in hi-tech research




Fall of POW camp wall leads to outcry




Suspicious dads prompt paternity test trend




Cops wage high stakes war on gambling




Target: Cut workplace fatalities




China to tighten control on grain production