Gunmen kidnap Catholic archbishop in Iraq
(Agencies)
Updated: 2005-01-18 08:13
Insurgents kidnapped a Catholic archbishop and targeted security forces in a series of brazen assaults Monday that killed more than 20 people. A suicide bomber attacked U.S. Marines in Ramadi, where insurgents also beheaded two Shiite Muslims and left their bodies on a sidewalk.
The top U.S. general in Iraq predicted violence during the Jan. 30 national election but pledged to do "everything in our power" to ensure safety of voters. As part of a crackdown on insurgents, U.S. troops arrested more than 100 suspects over the past three days, U.S. officials said.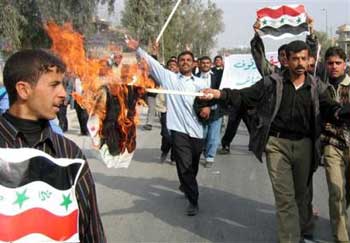 Iraqi policemen burn election posters of Interim Prime Minister Allawi, as they rally through the streets of Najaf, some 160 kilometers (100 miles) south of Baghdad, Monday, Jan. 17, 2005. Policemen demanded their salaries for last several months. [AP]

In Mosul, Archbishop Basile Georges Casmoussa of the Syrian Catholic Church, was seized by gunmen and the Vatican condemned the abudction as a "terrorist act." The 66-year-old churchman was grabbed while walking in front of his church, a priest said on condition of anonymity.

Christians make up just 3 percent of Iraq's 26 million people. The major Christian groups include Chaldean-Assyrians and Armenians with small numbers of Roman Catholics.

The deadliest attacks occurred in three cities in the flashpoint region north and west of Baghdad where Sunni Muslim insurgents are seeking to derail the election.

In Buhriz, 35 miles north of Baghdad, gunmen attacked an Iraqi National Guard checkpoint at the provincial broadcasting center, killing eight soldiers and wounding four. A suicide driver set off a car bomb at a police station in Beiji, 155 miles north of the capital, killing seven policemen and wounding 25 people.

A U.S. spokesman said Marines suffered an undisclosed number of casualties in a suicide car bombing in Ramadi, 70 miles west of Baghdad. Marines sent to check a suspicious vehicle came under small arms and rocket-propelled grenade fire and the vehicle exploded.

"There were U.S. casualties," 1st Lt. Lyle Gilbert said, but declined to give further details, citing security. Later, the U.S. command reported two Marines were killed in action in the province that includes Ramadi but would not say whether they died in the car bombing.

Elsewhere in Ramadi, a predominantly Sunni Muslim city, officials found the bodies of five civilians and one Iraqi soldier. Each had a handwritten note declaring them collaborators, officials said. Four found together had been shot while two discovered later in the day were beheaded, their blood-soaked bodies left where they died. The notes identified the two beheaded victims as Shiite Muslims.

Shiites have been targets of intimidation because they are expected to turn out in large numbers for the election for a 275-member National Assembly that will appoint a new government and draft a permanent constitution.

About 60 percent of Iraq's 26 million people are Shiites, and their candidates are expected to win most of the assembly seats. Many Sunni Arabs fear losing the power they enjoyed under Saddam Hussein, and Sunni clerics have called for a boycott of the vote. U.S. officials fear a low Sunni turnout may cast doubt on the legitimacy of the new government.

On Monday, police discovered a car loaded with explosives in the Shiite holy city of Karbala. On Sunday, a total of 17 people were killed in several attacks along the main highway from Baghdad to Kut, a city in a largely Shiite area 100 miles to the southeast.

Four mortar shells on Sunday hit schools designated as polling stations in Basra, a largely Shiite city in the far south. An al-Qaida group led by Jordanian militant Abu Musab al-Zarqawi claimed responsibility for the attacks in a statement found Monday on a Web site, although its authenticity could not verified.

In a statement Monday, Gen. George W. Casey Jr., commander of the multinational force in Iraq, said about 300,000 soldiers and police from U.S., Iraqi and other foreign forces will be available to protect voters Jan. 30.

"Is there going to be violence on election day? There is, but it's important that we understand what's happening here," Casey said. "It's not just about violence. It's about former regime loyalists and foreign terrorists murdering innocent Iraqis and Iraqi security forces to stop them from exercising their right to vote."

Nevertheless, violence has already affected the exercise in democracy. Some political alliances have declined to release all the names of their candidates for fear of attack, and little public campaigning has been possible except in Kurdish areas of the north.

Shiite politician Salama Khafaji, who survived an ambush Sunday in central Baghdad by gunmen wearing police uniforms, said she canceled campaigning in the south.

"We sent people out today to check roads in the area but they have reported back that terrorists have set up some road checkpoints," she said. "Generally I cannot go out and meet people or knock on doors to get out the vote like they do in the West."

Iraqis living abroad began registering to vote Monday, with dozens arriving at polling stations in 14 countries from Australia to Britain to the United States. Officials estimate 1.2 million Iraqis are eligible to vote overseas.

"We lived in a dictatorship a long time, and it's the first time in my life, in my 48 years, that I can vote in Iraq," said Saieb Jabbar, who arrived at a London registration center with his 23-year-old son, Ahmed. "I feel very happy."

In the Detroit suburb of Southgate, one of five U.S. registration points, Bushra Albrhi signed up with her husband, saying she appreciated the role America played in getting rid of Saddam and giving Iraqis the chance to vote.

"It's the first time for the Iraqis. We'll be very happy if we get a president from the people," she said.

Iraq's interim defense minister, Hazem Shaalan, said Monday that U.S. and other foreign troops shouldn't leave before the country is stable because governments in neighboring countries might send in their own armies. he specifically named Syria and Iran, both of which he has strongly criticized.

"We need these forces to stay ... at least for now until the security situation is stable and we have a strong army that can protect the people and the nation," Shaalan told Al-Arabiya television.

Romania's top defense body decided Monday to send 100 more infantrymen to join the 730 soldiers that European national already has in Iraq as part of a force that protects the United Nations mission. The decision still must be approved by Parliament.

German Chancellor Gerhard Schroeder, meanwhile, reiterated that his government would not provide troops for Iraq.

He said Germany and the United States had a common interest in seeing that Iraq's elections succeed and in rebuilding Iraq, but "German policy doesn't need to change and won't change." He noted Germany is helping train Iraqi troops and police outside Iraq.




Today's Top News
Top World News

UK, China unite in hi-tech research




Fall of POW camp wall leads to outcry




Suspicious dads prompt paternity test trend




Cops wage high stakes war on gambling




Target: Cut workplace fatalities




China to tighten control on grain production