UN bans travel in tsunami-hit region
(Agencies)
Updated: 2005-01-18 05:19
Security fears again threatened to hamper tsunami relief efforts Monday, with U.N. officials banning aid workers from traveling in parts of devastated Aceh province following reports that fighting had broken out between Indonesian government forces and insurgents.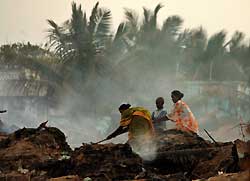 An Indian family sifts through the debris of burning houses at a fishing hamlet in Nagapattinam, in the southern Indian state of Tamil Nadu, January 17, 2005. The tsunami has changed the landscape so much that on the outskirts of Port Blair, the capital of the remote Andaman and Nicobar islands, men are standing on now-flooded roads to cast their nets. [Reuters]

The travel ban also came after Denmark warned its aid workers to beware of an imminent terror attack ¡ª a caution that prompted U.N. officials to launch an investigation and declare a state of "heightened awareness" in Aceh, where separatists have been fighting for an independent state for decades.

Insisting that aid workers had nothing to fear, rebel leader Tengku Mucksalmina dismissed Indonesian government claims that insurgents might attack relief convoys in hopes of stealing food for their fighters.

"Our mothers, our wives, our children are victims from this tragedy. We would never ambush any convoy with aid for them," Mucksalmina told The Associated Press from his jungle hideout outside Banda Aceh. "We want them (aid groups) to stay. We ask them not to leave the Acehnese people who are suffering."

The travel ban between the provincial capital of Banda Aceh and the east Sumatran city of Medan came "strictly because of the fighting going on down there," said Mans Nyberg, a spokesman for the U.N. High Commissioner for Refugees. The ban is to be in effect from Monday night until Tuesday morning between the two cities, a 280-mile stretch of road.

"There was reportedly a small battle between the army" and the rebels, Nyberg said. He didn't know when the battle occurred.

Joel Boutroue, the head of the U.N. relief effort in Aceh, said the ban "was not due to any specific threat" and that it would be reviewed Tuesday.

A rebel spokesman in Sweden, Bahktiar Abdullah, was not able to confirm the reports of fighting. Col. Nachrowi Dzajairi, a spokesman for the Indonesian military in Banda Aceh, said he had received no reports of fighting along the road.

"Obviously, given the fact that there had been conflict in the region, the staff who are there have to be careful, they have to watch what they do," U.N. Secretary-General Kofi Annan told reporters at the United Nations. He said U.N. workers have not had any major problems with the rebels or any other group.

Indonesian Foreign Ministry spokesman Marty Natalegawa declined to say whether the U.N. precautions were necessary. He said that he could not assess them until he understood the rational for the Danish warning.

But Mucksalmina said the security warnings were part of an ongoing Indonesian government campaign to discourage foreigners from getting involved because it would bring human rights abuses in Aceh to light.

"The Indonesian military is afraid of foreigners," the 31-year-old commander said. "They are afraid of greater scrutiny of what's going on in Aceh."

Mucksalmina said his forces didn't need to raid aid convoys because they had purchased a year's supply of rice, instant noodles and other food before the Dec. 26 tsunami hit.

"We were ready to come down from the mountain to give our supply food, to help clear up the corpses, to help our people," Mucksalmina said in a rare interview inside a wooden shack, guarded by about 15 fighters with M-16 and Kalashnikov rifles.

"But the military operations continued throughout Dec. 26, 27, 28. On the fourth day, I lost two of my men" in a gunbattle, he said. As he spoke, helicopters continuously buzzed overhead. Some of the rebels ate sticky rice wrapped in banana leaves, and sacks of food and ammunition were piled nearby.

Other governments whose nationals are working in Aceh said they had not upgraded their security warnings in recent days.

Japan's Foreign Ministry said it had no new information to warrant raising its warning for Indonesia. The German foreign ministry said it had not raised its terror alert, either.

The two countries are among many that included Indonesia on their list of countries where a terrorist threat exists. Jemaah Islamiyah, an Al-Qaida-linked group, is blamed for a series of deadly bombings in Indonesia in recent years, and other radical groups operate in Indonesia.

Indonesian officials regularly blame Free Aceh Movement rebels for shootings and violence in Aceh, even if there is sometimes little evidence of their involvement.

Adding to security concerns has been the appearance of Laskar Mujahidin, an extremist group with alleged links to al-Qaida, which set up a tsunami aid camp in Aceh. The group says it is there only to help tsunami victims.

On Jan. 9, Indonesia warned aid workers that the rebels had infiltrated camps sheltering tsunami survivors, and gunfire was heard near the U.N. compound in Banda Aceh. Before the disaster, foreigners, including aid workers and journalists, had been banned from traveling to Aceh.

Citing the security concerns, Indonesia last week ordered foreigners to outline their travel plans or face expulsion from the region. Hundreds of aid workers have continued to move out into hard-hit areas, despite the restrictions.

Aid groups like Save The Children said late Monday after the U.N. announcement that it hadn't heard of any new security threats, but would take appropriate measures.

"It would take for us to have to hear something that would be a great security risk for our staff to stop delivering aid, because we know children are in great need," spokeswoman Eileen Burke said in Banda Aceh.




Today's Top News
Top World News

Britain, China unite in hi-tech research




Fall of POW camp wall leads to outcry




Suspicious dads prompt paternity test trend




Cops wage high stakes war on gambling




Target: Cut workplace fatalities




China to tighten control on grain production