Britain, China unite in hi-tech research
By Cui Ning (China Daily)
Updated: 2005-01-17 22:14
Energy, electronics, stem cell studies and space and aviation sciences are major fields for scientific co-operation between China and the United Kingdom.
A series of conferences or workshops will be held soon to deepen co-operation in the four areas, Lord Sainsbury, minister for science and innovation at the Department of Trade and Industry of UK, said Sunday.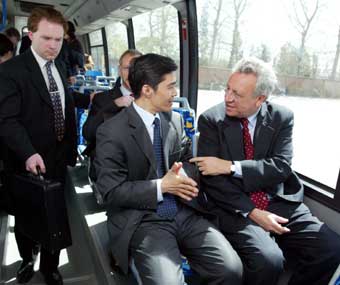 Philippe Busquin (right), an official with the EU science commission, take a ride of a cell-powered vehicle at Tsinghua University in this April 8, 2004 file photo. China and Britain have increased cooperation in science and technology. [newsphoto]

Scientists from the two countries will have additional opportunities to conduct extensive exchanges, he told the opening session of the two-day third UK-China High Technology Forum.

He noted China's rapid economic growth and excellent science development are good foundations for the bilateral collaboration.

The UK and China have also started co-operation in space fields, such as air-to-surface observation for environmental-monitoring and other aspects, according to Sainsbury.

He added the UK is actively co-operating with other countries, including China, for studies of technological standards that are important to world trade.

Under the umbrella of China-UK Scientific Park programme which was launched in 2003, some Chinese high-tech firms have entered the UK to develop and commercialize their technologies, according to the Department for International Co-operation of China's Ministry of Science and Technology.

Sources from the department said China and UK have conducted many technological co-operative programmes. For example, the ministry and British Petroleum (BP) have signed a memorandum of co-operation for building hydrogen stations to support the use of fuel cell-powered vehicles -- vehicles powered by hydrogen or other cleaner fuels emitting less pollutants.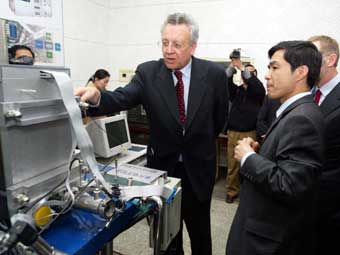 Philippe Busquin (left), an official with the EU science commission, visits a vehicle safety and energy conservation laboratory in Tsinghua University in Beijing in this April 8, 2004 file photo. [newsphoto]

Under the memorandum, BP will provide experience for the development of hydrogen energy and fuel cell-powered vehicles to China.

During the plenary session Sunday, Huang Xing, director of the China Science and Technology Exchange Centre and head of China-European Union Science and Technology Co-operation Promotion Centre, said China is willing to further co-operate with the UK in industries of information and communications.

He said enterprise-to-enterprise co-operation should constitute the bulk of bilateral scientific exchange to make high-tech co-operation more substantial.

The policy, adopted by the Chinese Government to encourage independent innovation as well as technology imports from other countries, will remain unchanging.

Besides, the country's positive policies catering to technology globalization will not be ignored in the next few years, according to Liao Xiaohan, an official of the Ministry of Science and Technology.

Tan Tieniu, director of the Institute of Automation of the Chinese Academy of Sciences, said China has made rapid progress in information technology over the past few years, particularly in such fields as high performance computer, advanced servers, desktop operation system and new generation broad-band Internet network.

In view of the large market in China, universities and research institutes from China and the United Kingdom should associate with each other, so as to further tap the market through technological collaboration.

Barry Furr, chief scientist of the Project Evaluation Group of Astra Zeneca (an international pharmaceutical company), said scientists from the UK and China have great co-operative potential in medicinal development, clinical research, genetic studies and in chemistry, because China has good expertise in these fields.

He said his team will soon visit major universities in China and sort out collaborative partners to propel co-operation in the above fields.




Today's Top News
Top China News

Britain, China unite in hi-tech research




PetroChina reports record production




Taiwanese applaud charter flight pact




Plan intends to make life better for Beijingers




Suspicious dads prompt paternity test trend




Target: Cut workplace fatalities