Couples check up before tying the knot
By Bao Xinyan (China Daily)
Updated: 2005-01-17 21:52
Pre-marital medical check-ups are becoming popular in Nanjing, capital of East China's Jiangsu Province, sources from a local health hospital for women and children said.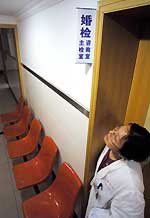 A file photo taken on Feburary, 2004, shows a doctor working at a pre-marital medical check-up institution waits for new couples to come up for examination in Hangzhou, East China. [newsphoto]

Li Jinyao, a doctor working in the centre for pre-marital physical examinations at the hospital, said that between September and November more than 120 people had come in for tests.

In December alone, more than 230 people were examined, and already this month the number is rising rapidly.

This has happened against a backdrop of new regulations for marriage registration issued in October 2003, which stopped examinations before marriage being compulsory.

At first, the number slumped to 4 per cent from 97 per cent, but it has since been rising. "More and more people are beginning to realize the importance of examinations because of the sharp increase in venereal diseases," Li said.

The hospital last year treated 20 pregnant women with syphilis.

They included two ectopic pregnancies, two premature deliveries, an newborn encephalic haemorrhage, and one dead foetus.

"To be responsible for myself and my future family, I think the examination is very necessary," said Chen Yu, a 29-year-old Nanjing citizen, who went to the centre on Monday morning together with his fiancee.

"The examination is a control in sexually transmitted diseases, because many people do not even know they have anything until the last moment. It's a safety device when getting pregnant," said another couple.

"But we do not think that the examination should be compulsory, for some well-educated people, they may leave out the process if they think the examination invades their privacy."




Today's Top News
Top China News

UK, China unite in hi-tech research




Fall of POW camp wall leads to outcry




Suspicious dads prompt paternity test trend




Cops wage high stakes war on gambling




Target: Cut workplace fatalities




China to tighten control on grain production