Toll tops 175,000, Sri Lanka adds thousands
(Agencies)
Updated: 2005-01-17 20:03
Sri Lanka's tsunami death toll shot up on Monday as officials said the more they cleared up, the more bodies they found.
The island added another 7,275 victims to its list of the dead, taking the national toll over 38,000 and the overall toll around Indian Ocean nations to 175,458.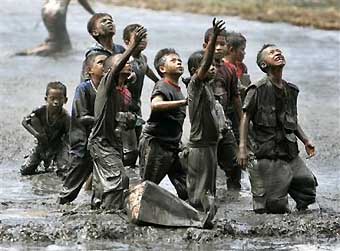 Refugee children try to catch relief goods tossed from an Australian military helicopter Monday, Jan. 17, 2005 in a rice paddy in Lampaya, outskirts of Banda Aceh, Indonesia. [AP]


"We are coming across dead bodies on a daily basis as we clear the rubble," said Tilak Ranavirajah, a senior public security ministry official.

Hardest-hit Indonesia has steadily raised its total, but Sri Lanka's body count had stabilized around 30,000 until Monday.

U.S. Deputy Defense Secretary Paul Wolfowitz flew to the island to see the clean-up efforts in the southern port of Galle.

Sri Lanka said it would begin its tsunami reconstruction phase on Wednesday in the obliterated town of Hambantota.

"We were not prepared at all ... to face a disaster like this," said President Chandrika Kumaratunga. "The people of this country faced it effectively, they are in a position to rebuild."

It is 22 days since a powerful earthquake off Indonesia's Sumatra island triggered the deadliest waves on record that hit more than a dozen countries from Asia to Africa.

Sri Lankans have now begun rebuilding tsunami-hit homes and hotels close to the shore, in defiance of a government ban.

"I'm worried about my family but I'm also worried about the future of my children. This is my business. How else will I protect and feed my children?" said Ranjith Premakumara, 28, rebuilding a guest house on its old foundations just 30 meters (yards) from the beach in the southern town of Paiyagala South.

RELATIVES NEED BODIES

In Thailand, Prime Minister Goran Persson of Sweden -- which lost hundreds of people -- visited a Buddhist temple turned mortuary with his Norwegian and Finnish counterparts, Kjell Magne Bondevik and Matti Vanhanen.

It houses hundreds of corpses from nearby Khao Lak resort, which forensics experts are trying to identify -- crucial for families left without a body to grieve over.

"I'm impressed and I'm also extremely humbled because they're doing a very difficult job here under difficult circumstances," Persson said.

The trio was greeted by angry villagers demonstrating against Thai plans to move the mortuary and forensic operation from the temple to Phuket island, two hours drive to the south.

Nearly 2,000 Swedes are dead or unaccounted for. The tsunami looks set to be the greatest national tragedy in two centuries for a country that stayed neutral in the world wars.

Tens of thousands of bodies around the region may never be recovered, worsening the trauma.

In the Indian town of Seruthur, Lakshmi Kolandavelu refuses to believe her husband when he says their two-year-old son, torn from her arms by the waves and missing, is dead and probably buried in a mass grave with three of his four siblings.

"We never found their bodies," she says, shaking her head.

"The sea goddess gave us five children and snatched back four," says her husband.

TEARS AND DEEDS

Indonesian President Susilo Bambang Yudhoyono said the tsunami brought tragedy but also heroism in Sumatra's Aceh province.

"To this day, all of Indonesia is united in tears and deeds," he said.

His government sought at the weekend to reassure U.S. and other foreign troops bringing relief in Aceh -- an area suffering a long-running separatist rebellion -- that it did not plan to send them home by late March, as one official earlier said.

After talks with Wolfowitz, who visited Aceh, Defense Minister Juwono Sudarsono said there was no deadline but a March 26 target for Indonesia to take over most of the aid effort.

Mark Collins, head of Aceh operations for relief group AusAID, said things were slowly looking up.

"There has been a great deal of progress," he said. "Immediate needs of foods and shelter are being met."

"We have been very fortunate there has been no widespread outbreak of diarrhoea, or gastro-intestinal diseases so far," he said, suggesting that this was because local people had taken in as many of the homeless as they could to look after them.

Indonesian soldiers fumigated parts of the provincial capital Banda Aceh. "The purpose is to kill the insects, mosquitoes, cockroaches, rats and flies," soldier Dwi Joko said.

KOBE GRIEF

In Japan, Kobe city residents marked the 10th anniversary of their own quake in solemn pre-dawn ceremonies, remembering their 6,433 dead and praying for the tsunami's victims.

"I couldn't bear to see the news, how hard it is for them," said Tomiko Fujimoto, whose son died in Kobe. "It made me think of everything all over again."

Kobe's experience -- of a smaller disaster in a rich nation -- made clear how hard the future may be for tsunami survivors.

"The 10 years have been both short and long. We've worked so hard to try and get our lives back," Fujimoto said.




Today's Top News
Top World News

Cross-Straits jets ready for take-off




Zhao Ziyang, 85, passes away in Beijing




'Go-west' speeds up in next five years




80 officials entangled in bank loan swindle




Party issues outline to fight corruption




Anti-gambling war forces 84 casinos to close