U.S. arrests dozens ahead of Iraq vote
(Agencies)
Updated: 2005-01-17 09:14
US troops staged a series of raids in Mosul and elsewhere in northern and central Iraq on Sunday, arresting dozens, while insurgents stepped up their attacks two weeks ahead of national elections, ambushing a car carrying a prominent female candidate and killing 17 people in other assaults.
Deputy Defense Secretary Paul Wolfowitz conceded that U.S. and Iraqi forces cannot stop "extraordinary" intimidation by insurgents before the Jan. 30 vote.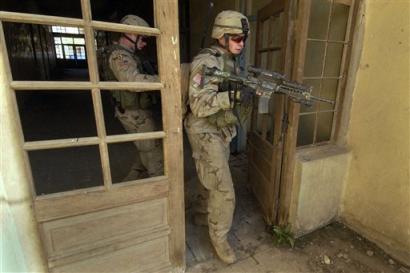 U.S. Army 1st Battalion, 24th Infantry soldiers raid a vacant hotel in Mosul, Iraq, Sunday, Jan. 16, 2005, after a report of insurgent sniper fire in the area. The Mosul area has emerged as a major flashpoint between U.S. and Iraqi forces and the insurgents, raising fears that the upcoming election cannot be held in much of the city, Iraq's third largest. [AP]

Underscoring the precarious security situation, Salama al-Khafaji, was ambushed in central Baghdad by gunmen wearing police uniforms, but she escaped injury when her bodyguards returned fire, an aide said. It was the second attempt since May on the life of al-Khafaji, who is running on the favored slate endorsed by the country's main Shiite cleric, Grand Ayatollah Ali al-Sistani.

U.S. and Iraqi officials have insisted that the elections go ahead as scheduled, despite the persistent violence.

Interim President Ghazi al-Yawer said that if the elections were postponed for six months, there was no guarantee the violence would wane. The insurgents "might lay down for two or three months, then carry out attacks again," he said.

Most of the violence occurred around Kut, southeast of Baghdad, and the northern city of Mosul, Iraq's third-largest city.

Near Kut, three Iraqi policemen were killed in one shooting and three Iraqi National Guard officers were killed by a hand grenade in another attack. As mourners gathered for the policemen's funeral, a suicide attacker blew himself up in the crowd, killing himself and seven others.

Gunmen also shot dead an Iraqi translator for a Filipino company working on water projects for multinational forces near Kut, a medical official said.

In Mosul, insurgents shot dead a member of a local government council. They also set off explosives as a U.S. convoy passed, damaging a Bradley Fighting Vehicle, but no casualties were immediately reported.

A mortar also damaged a school in Mosul to be used as a polling place. And four other mortar rounds blasted schools in relatively quiet Basra, in the south, also slated to serve as polling centers.

Even in heavily Shiite areas of south-central Iraq, which is far more stable than Mosul or Baghdad, several election workers have been threatened and resigned in recent days, a senior U.S. Embassy official said Sunday in Hillah while outlining election preparations there.

"Most expect a high turnout if things seem quiet enough. There is some worry if you have a series of car bombs, people will think twice about coming," the official said.

Elsewhere in central Baghdad, insurgents attacked an Iraqi National Guard patrol on the east side of the Tigris river, then melted into the crowd in the open market area, sending shoppers running. Sounds of heavy machine-gun and automatic-weapons fire reverberated for nearly an hour along Haifa street on the western side of the river.

Wolfowitz, speaking in Jakarta, Indonesia, acknowledged that the security threat was worse than in last October's nationwide balloting in Afghanistan and that it was impossible to guarantee "absolute security" against the "extraordinary intimidation that the enemy is undertaking."

"There was intimidation in Afghanistan — the Taliban threatened all kinds of violence against people who registered or people who voted," he said. "But I don't believe they ever got around to shooting election workers in the street or kidnapping the children of political candidates."

An Associated Press poll of Americans indicated 53 percent are not optimistic that a stable government will take hold in Iraq.

Around Mosul, the U.S. Army's Stryker Brigade Combat Team detained 11 suspected insurgents, including an alleged cell leader, and seized weapons and bomb-making material in several weekend raids — part of the military's strategy to try to secure the city short of launching an all-out offensive.

The Mosul area has emerged as a major flashpoint between U.S. and Iraqi forces and the insurgents, raising fears the election cannot be held in much of the city.

U.S. and Iraqi officials are scrambling to recruit new police and election workers in Mosul after thousands of them resigned in the face of rebel intimidation. Similar mass resignations are believed to have occurred in other Sunni Muslim areas of northern, central and western Iraq.

With hours-long waits at gas stations across the country, the Iraqi government denied what it called "rumors" that the Oil Ministry planned to keep gas supplies low to deter car bombers. The government has indicated it plans to restrict much driving around the election.

But the long gas lines clearly were becoming a sore point.

About 300 followers of radical Shiite Muslim cleric Muqtada al-Sadr began a three-day sit-in in front of the Oil Ministry in Baghdad to protest gasoline shortages. About a dozen entered the ministry and complained to Minister Thamir Ghadbhan, asking why U.S. troops have fuel for their vehicles and Iraqis do not.

Meanwhile, the ministry announced that Iraq expects to resume pumping crude oil from its northern oil fields to the Turkish export terminal of Ceyhan in 10 days. The flow of oil through the northern pipeline has halted since a Dec. 18 explosion by saboteurs.

Elsewhere, the body of a man was found in a street in the insurgent stronghold of Ramadi with a paper on his back identifying him as an Egyptian citizen.

"This will be the punishment of anyone who deals with American forces," the paper read.

The fallout from an earlier crisis, the Abu Ghraib prison abuse scandal, also continued to reverberate.

Many Iraqis criticized a 10-year prison sentence given to U.S. Army Spc. Charles Graner Jr., the alleged ringleader shown smiling beside naked Iraqi prisoners in photos transmitted around the world.

Hussein Mohammed, a 22-year-old student in Baghdad, called the trial unfair and the sentence too light. "The judge should have been an Iraqi and meted out the death penalty," he said.




Today's Top News
Top World News

Cross-Straits jets ready for take-off




'Go-west' speeds up in next five years




80 officials entangled in bank loan swindle




Physical condition of Zhao Ziyang stabilizes




Party issues outline to fight corruption




Unpredictable year ahead for stock market